BLOG


Feb 16, 2017:

The new Similar Fashion album is released today!!!!!! :) :) :) we put a lot of <3 into this album and I am very very excited to share it with y'all. <3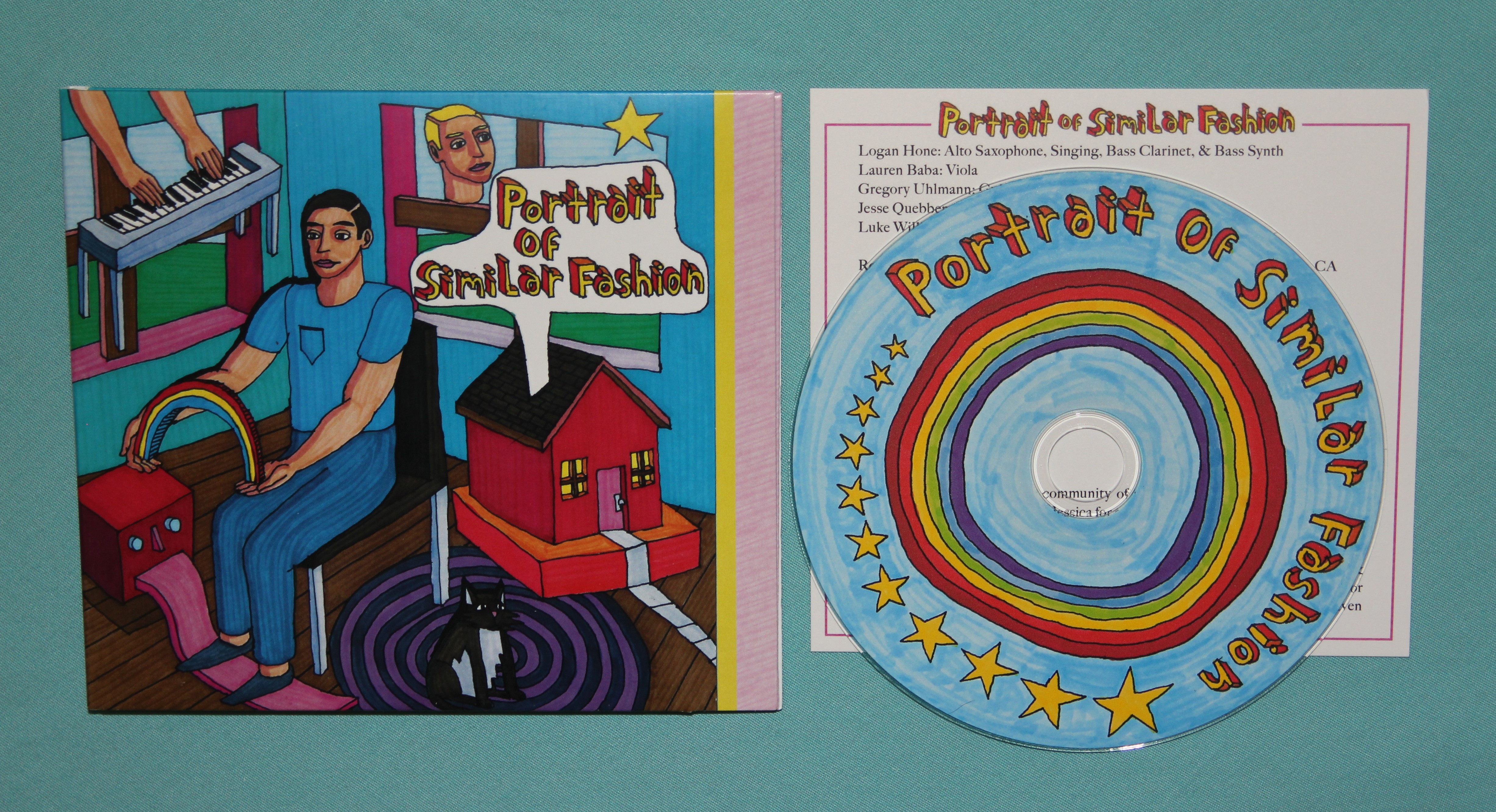 Jan 31, 2017:

I am thrilled to announce that I will be restarting Community Band! A wonderful community arts organization called Art in the Park will now be hosting this weekly musical gathering on Saturday mornings from 10am-12:30pm in their gorgeous arts building at Hermon Park in Los Angeles. I am so excited!!

It is free and everyone is invited! Check out this page to hear recordings and read more.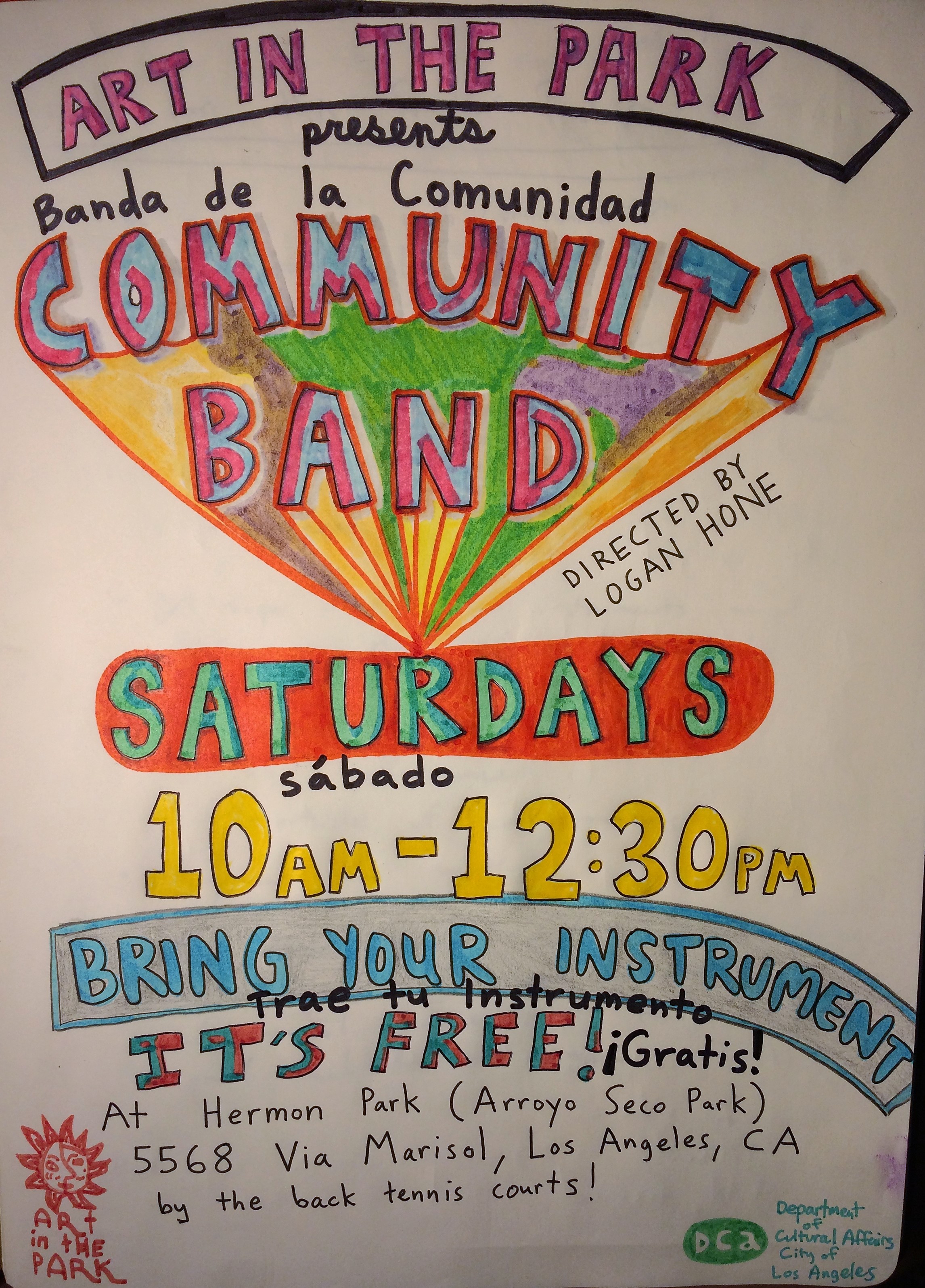 Jan 18, 2017:

Similar Fashion has a new album called 'Portrait of' coming out on Feb 16! wow wow wow I am so excited to share it with you. You can hear two tracks and pre-order on our bandcamp page. We are also doing a West Coast Tour in February. We are playing with a bunch of INCREDIBLE bands up and down the coast -- check the shows page for dates :)





Nov 15, 2017:

I am thrilled to perform some songs from my album Variety Show like "DNA" and "The Wind" + more with an AMAZING band featuring Jake Sucher (Snow Nerds), Taylor Thompson (P22, Jerry Paper Band), and Jesse Q-T (Naps, My Allowance, Similar Fashion) at an early show this Saturday at 5:30pm at The Resident. We play 3rd! Jacob Metcalf and Gregory Uhlmann Band are also performing.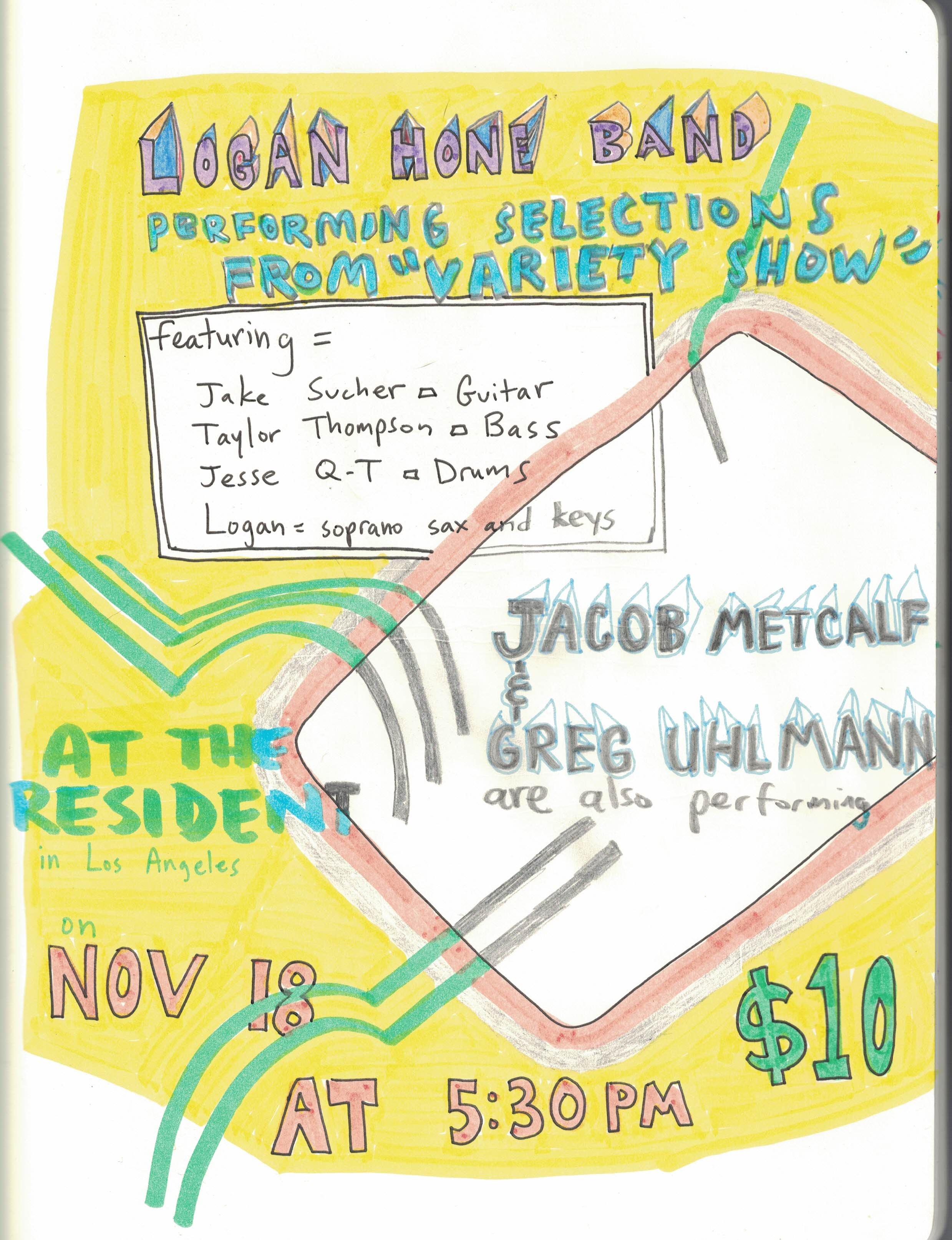 I was also so lucky to play drums and saxophone on this Ben Swisher song!


Oct 25, 2017:

What an amazing review of Variety Show from KFJC! Here it is:

"Phew!!!!!! Wow!!!!! Man!!!!! Not quite outsider but sort of because of production values and oddness. A+++++++. Mostly solo, multi-instrumentalist. Neurotic and sane songs of love and life. Beats sound like the 1980′s sometimes. Instruments sound like from the 1980′s sometimes. Hints of Eno. Hints of post-punk. Hints of pop. But wait…. it is all so TWISTED. Track 1, "I Miss You", starts out with a drum beat that feels j..u..s..t.. a bit tooooo slow. In comes a familiar guitar riff, then an electronic piano blurble, vocals sounding a bit like a chant, some off the wall guitar, more electronic mistakes, and full up rockestra with instruments that seem to have been found at the local thrift store. YEP!!!! With a big smile on my face I settled back in my old '97 Lexus and scuttled down the black as midnight hwy 280, blasting this audio gem. Each track is like it's own sonic universe: tweaked enough to be unique from the last track but familiar with the Logan Hone thread. Superb lyrics made me laugh out loud more than once and had me nodding in agreement. "Get In the Car" may be my favorite pop number of the month because it goes for it and then churns it up. Bravo for something so familiar and yet so beautifully strange. Refreshing. It gives me hope for new sounds."

Reviewed by Naysayer on October 24, 2017 at 10:20 pm



Oct 18, 2017: It Lo booklets

I decided to make booklets of the blog posts I made during the It Lo project. They can be purchased on bandcamp or on my new buy page!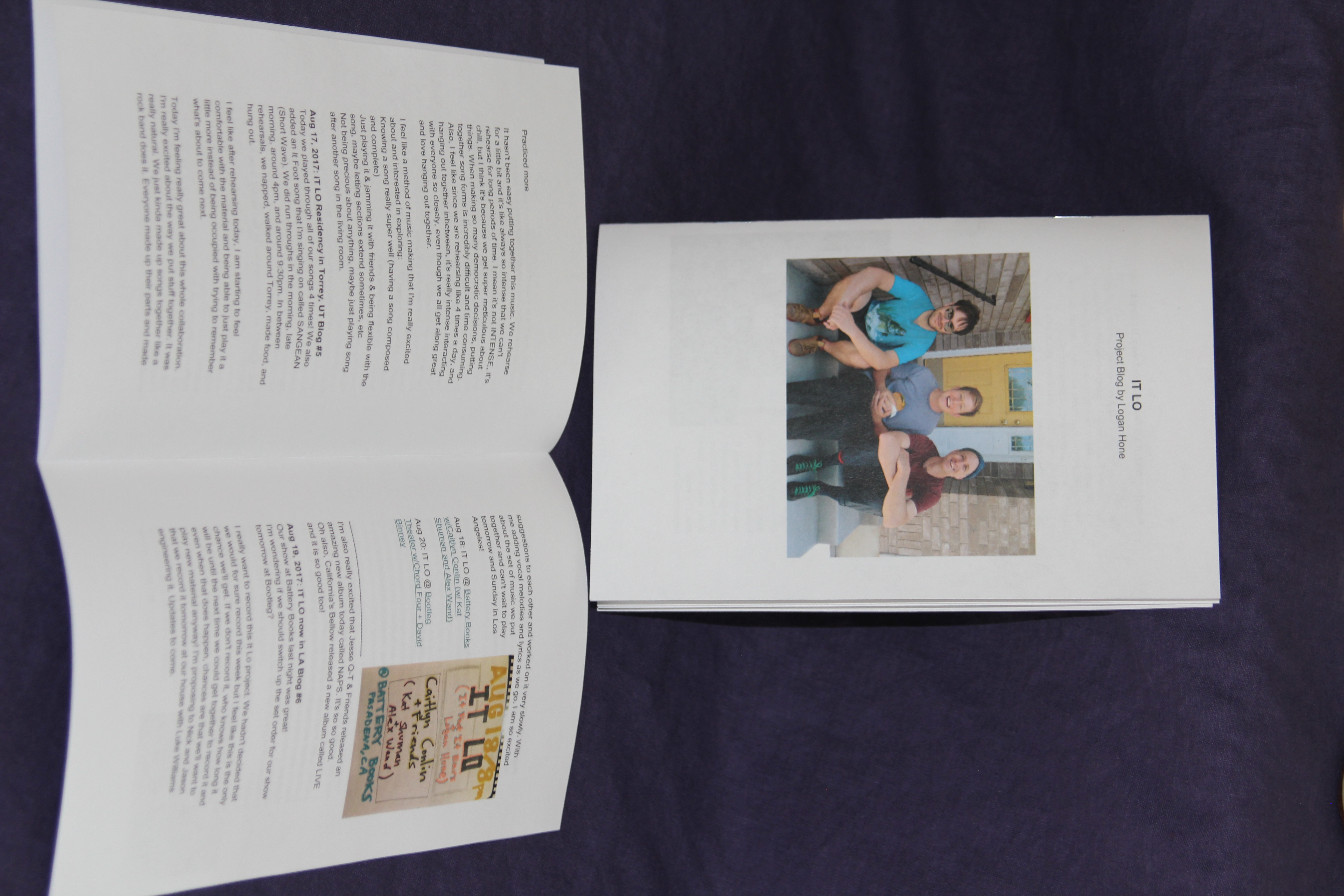 Oct 13, 2017: It Lo is physical!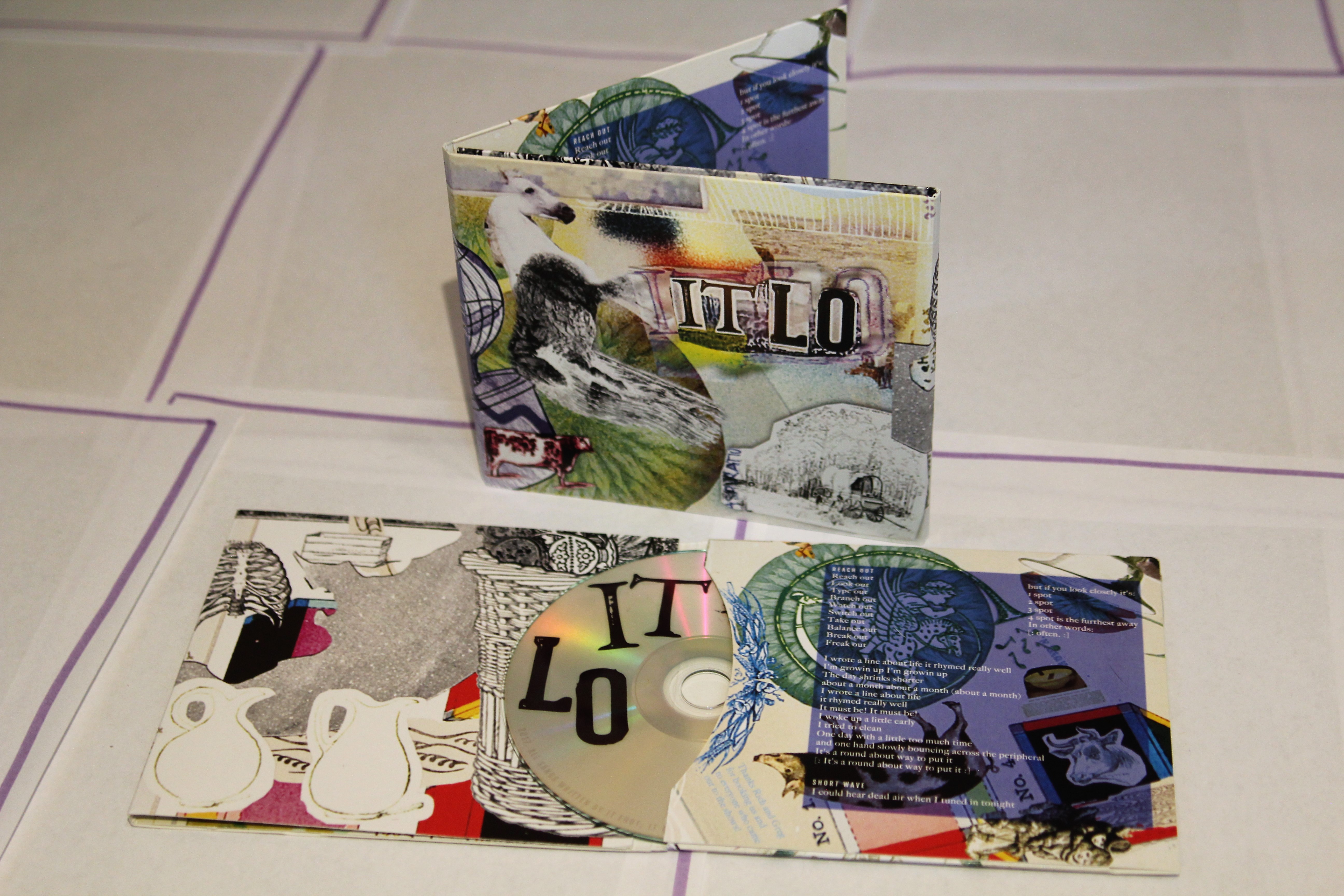 You can listen on bandcamp. If anyone is interested, we have physical copies with amazing artwork by Jessica Li for sale on bandcamp or you can venmo me $10 @logan-hone (include your address in notes) & I will send you a copy!

Here is some music that has been inspiring me lately:
CE Schneider Topical ("Wrestle Anthem" features gorgeous saxophone playing by Billy McShane)
Sam Amidon (his recent performance at Bootleg Theater was incredible!)
Jon Hassell: Magic Realism
Alice Coltrane: World Galaxy



Sept 13, 2017: In LA

The It Lo album is released digitally!



I also completed the It Lo project blog, which includes entries throughout the residency, pictures from the residency and recording session, a few pages from my notebook, and a few lists. Read it here.



Aug 24, 2017: In LA

I am doing what feels like so many projects lately. It feels like a wonderful dream full time job (that often doesn't pay, but pays off in the end!) and also feels really brilliant and overwhelming sometimes. I've found that it is sometimes hard for me to switch gears so fast. Sometimes, while my head is within one project, I feel kinda like blaaah or ooh nooo about another project (a show for example) happening in a few days. I've found that there is usually a really distinct switching point, where I am able to switch gears and get really excited about the next thing.

I feel that one of the hardest parts of having so many projects, is feeling a need to generate new material and write new songs for each project. I love playing new songs at performances and in complete honesty, sometimes feel like I let the audience/myself down if I don't have new material or "growth" in some way.

Today I made some scores in my big notebook. I'm really excited to try these out with Sharon Kim at LOVE CONTEST rehearsal today. We are playing tomorrow at Rec Center! Here's the Facebook event.

Aug 17, 2017: IT LO Residency in Torrey, UT Blog #5

Today we played through all of our songs 4 times! We also added an It Foot song that I'm singing on called SANGEAN (Short Wave). We did run throughs in the morning, late morning, around 4pm, and around 9:30pm. In between rehearsals, we napped, walked around Torrey, made food, and hung out.

I feel like after rehearsing today, I am starting to feel comfortable with the material and being able to just play it a little more instead of being occupied with trying to remember what's about to come next.

Today I'm feeling really great about this whole collaboration. I'm really excited about the way we put stuff together. It was really natural. We just kinda made up songs together like a rock band does it. Everyone made up their parts and made suggestions to each other and worked on it very slowly. With me adding vocal melodies and lyrics as we go. I am so excited about the set of music we put together and can't wait to play tomorrow and Sunday in Los Angeles!

Aug 18: IT LO @ Battery Books w/Caitlyn Conlin (w/ Kat Shuman and Alex Wand)

Aug 20: IT LO @ Bootleg Theater w/Chord Four + David Binney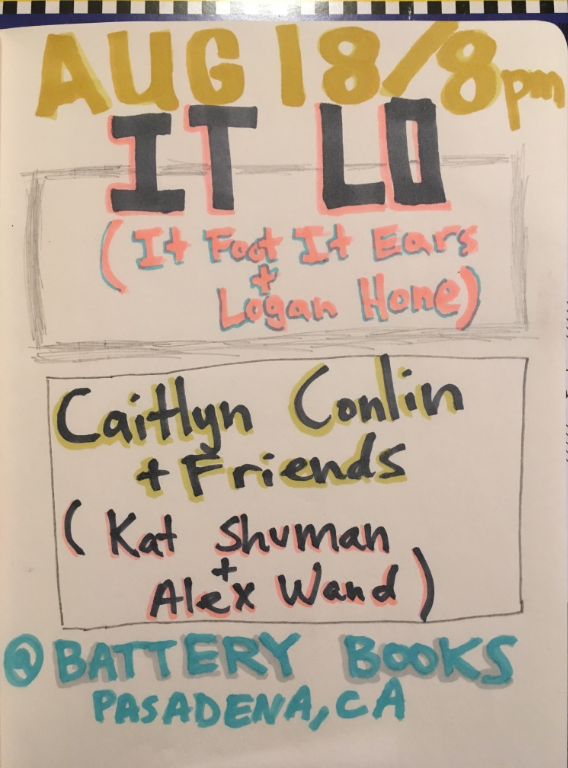 -----------------------
I'm also really excited that Jesse Q-T & Friends released an amazing new album today called NAPS. It's so so good.


Oh also, California's Bellow released a new album called LIVE and it is so good too!




Aug 16, 2017: IT LO Residency in Torrey, UT Blog #4

6:33pm

Today:
woke up around 9:30am
Watched a little Quantico on netflix. It's like the worst show ever but I love watching it.
Made egg sandwiches for breakfast
Cut my left index finger really bad while slicing bread for my 2nd sandwich
Practiced
Went grocery shopping
Practiced more

It hasn't been easy putting together this music. We rehearse for a little bit and it's like always so intense that we can't rehearse for long periods of time. I mean it's not INTENSE, it's chill, but I think it's because we get super meticulous about things. When making so many democratic decisions, putting together song forms is incredibly difficult and time consuming. Also, I feel like since we are rehearsing like 4 times a day, and hanging out together inbetween, it's really intense interacting with everyone so closely, even though we all get along great and love hanging out together.

I feel like a method of music making that I'm really excited about and interested in exploring:
Knowing a song really super well (having a song composed and complete)
Just playing it and jamming it with friends and being flexible with the song, maybe letting sections extend sometimes, etc
Not being precious about anything, maybe just playing song after another song in the living room.



Aug 15, 2017: IT LO Residency in Torrey, UT Blog #3

Today, we went on a short hike up a wash in Capitol Reef National Park. It was so cool up there. There was an insane echo that repeated about 3 times and had an instant cutoff, almost as if there was a gate plugin on it. We saw a mountain goat really close too. I've been writing a lot of lyrics in my notebook throughout the day.

In this collaboration, with all of these democratic compositional decisions happening, I am noticing the types of musical ideas I am trying to do/push for. I'm trying to be open to what Jason and Nick try to bring. These aren't completely related to IT LO this week, and this is a weird list, but here are some compositional tendencies I have noticed in myself recently:

Tendency towards being casual
Tendency towards gentleness
Tendency towards 4/4
Tendency towards major, lots of 2nds
Tendency towards improvisation
Tendency towards openish forms
Tendency towards strong synchronicities
Tendency towards fun
Tendency towards simpler
Tendency towards shimmering energy
Tendency towards less drums
Tendency towards mezzo
Tendency towards less notes
Tendency towards collaboration
Tendency towards theater, show music, the circus
Tendency away from noticeable tools/techniques/methods
Rejection of the score as a tool
Fear of masculinity
Fear of overly virtuosic/technical music. But often times playing really difficult music with musicians with super high skillsets
Tendency away from the typical
Tendency away from the weird typical
Tendency away from epic
Tendency toward friendly



Aug 14, 2017: IT LO Residency in Torrey, UT Blog #2

Today we practiced in the morning and then went on a really nice hike to a small waterfall west of Capitol Reef. It was so fun and we saw a huge orange and white mushroom. I took a picture but it seems my bluetooth isn't working and I can't transfer the pic to my computer. darn!

We practiced some more and then watched Sunset Blvd (1950). It was amazing. There is something about film, and the directedness of it, like the fact that the video clips are spliced together, that makes it feel too perfect for me. Maybe it's just the fact that it exists in it's form for eternity that bothers me (the same with audio recordings).

The movie also gave me thoughts on fame, making it, and being recognized. I feel so weird about that. Just simply being someone that moved to LA to be a part of a scene, making recordings, getting press, getting shows, travelling, making any money at all, is a very strange lifestyle. On one hand, moving to LA is amazing because it's a place where there is a community of people making things, people willing to engage with the things I make, and people willing to make things with me. On the other hand, I feel like I have such a music obsession and almost guilty that anyone would want to come listen to me, or buy an album, or pay for me to play. And the fact that I do make music that I enjoy and I feel like other people might enjoy and feel like I want them to hear it, is weird as well. I guess the way forward for now is to keep trying to play as much as feels good and with people that are fun to play with and make stuff when I feel like making stuff.

Update on the wammy bar: Jason was trying to figure out a way to play without a bass player and thought the wammy bar could help to get down to lower notes.

Music is logistics and because of that, happenstance. It's strange that place and time affects what you make. You never know what's going to happen, how everyone in the band is feeling or what they are going through at the time.

Monday feelings about creativing this IT LO music: I'm feeling a tendency to finish pieces is kinda bugging me. I wish we just played and improvised more. Like voice memo record 100 improvised songs and then pick the 6 favorites and workshop them a bit. But I feel like if you actually did 100 songs, chances are that your 6 favorites probably wouldn't even need much workshopping.

I have been feeling like I want to (in general) play way simpler songs. I feel like the simpler and more "normal" the material is, the more flexibility it gives me within it's clear, simple, and solid framework.

List of influences on the brain today:
Freddie Crump
Jelly Roll Morton band
John Jacob Niles
Scott Walker
Caitlyn Conlin
Twin Peaks (Nick has got Twin Peaks on the brain!)
The circus but gentle
Silent film: gentle
happy pleasant
Disney but more mellow

Recommendations from Jason and Nick:
"The Collaborative Habit" by Twyla Tharp
composer Chen Yi



August 13, 2017: IT LO Residency in Torrey, UT Blog #1


I am in Torrey, UT with IT LO: a new project combining It Foot It Ears (Jason Rabb and Nick Foster) with me! We are so lucky to be occupying Jason's parents' home for 5 days (Sunday-Thursday) to jam, make up music, rehearse, hang out, eat, and sleep. I couldn't be more excited about this. We are surrounded by a mindblowing vastness of space, with a perimeter of mountains and red rock bluffs. This evening there was a rising pink glow for a sunset. We can see the Henry Mountains, which Jason told us is one of the last places where wild buffalo roam. We are about a 5 minute drive away from Capitol Reef National Park. The house is wonderful. It is small, very simple, and very cozy and comfortable.

Jason was born in 72. Nick was born in 82. I was born in 92. Very cool and weird. It's really fun talking with these guys about music. The 3 of us have been so invested in the Utah music scene, and we all have a lot of shared/overlapping/seperate knowledge about it, which is really fun to talk about.

It was about a 4 hour drive from my house, which went by quite fast. We listened to Purr Bats and Jelly Roll Morton. We arrived and started to unload food (Julie was so nice to pick up groceries for us!) and gear. We rearranged the house. The house is basically in 2 halves: 1) one large room divided into 3 sections: kitchen, dining area, living room area. 2) a small perpendicular hallway with a bathroom at the center, a small laundry room, and a room on each side. We took out the dining table and set up gear there, sandwiched between the kitchen and living room area. The room is wonderful. There are many windows. The breeze blows through the front door to the back door, with screens on each. While rehearsing, we can see the magnificent views all around. It's so incredible!




Our set up right now:

Nick:
Drumset: snare, kick, low rototom with a batter head, floor tom.
Cymbals: hihat, crash, ride
woodblocks
Yamaha DX synth: plugged into keyboard amp
1 vocal mic




Jason:
Fender Jazzmaster Guitar (Elvis Costello model)
Fender amp head with brown speaker cab
RAT Distortion pedal, which sits on the amp and is always turned on with a low amount of gain
Music stand holding: guitar preparations (alligator clips, cloth octopus legs) & a fm radio
1 vocal mic




Logan:
Conn 6m alto saxophone
1 vocal mic
Trap table with castanets, a cowbell, a splash cymbal, and rattles

There is also a Roland synthesizer that we might use
The vocal mics are plugged into a mixer which is plugged into a single EV speaker
-------------------------------------------------------------------
I have never heard the words glissandi & gliss as much as I do when I'm with It Foot. They're obsessed! It's great to hear it so much.

Before we even got all set up, we were jamming. Nick was making up some ideas on the keys/drums. We started working out a song. We made some sandwiches with fried egg, tomato, avocado, mayo, mustard, and green spicy sauce which we ate on the porch. We made up and arranged another song.

It's pretty strange that, with all of the space around us and the distance from one house to another, there is a camper really close to this house where a family is working on something, maybe building a fence. And they are polygamist! The women have dresses on and wild hairdos. I want to talk to them. I said hi to all the boys. I didn't see any young girls, only young boys. There were 2 women.

Nick is really excited about doing a bunch of left hand keyboard while drumming. He's been doing that with his band Palace of Buddies for years and he is really really good at it. He is also really into electronic music and synthesis and makes really cool sounds. It's so awesome to have that perspective.

Jason does the coolest stuff with his wammy bar.

I really am trying to be in the moment and not have a desire to structure and put order to musical events that we make. But at the same time, with improvising pieces, I crave order. I especially crave harmonic narrative and harmonic clarity between the entire ensemble. I love groovy vamps within certain pitch sets, but that can wear on my ears sometimes. I am really interested in trying to figure out ways to approach music in a way that a jazz band plays over a standard. But change the ingredients. Change the common and shared languages. Find structures to improvise within as if we are "playing the changes". Finding ways where we are just playing a song together, but not necessarily in a meticulously ordered and calculated way (though sections and moments like that would be very cool to have as well!).

Later in the evening, right after it got dark, we did some jamming. We did this really weird goth song, which was a blast. We're totally just figuring out how to work together. It's an interesting dynamic between the 3 of us. Nick and Jason have such a long history of playing together. I know their music really well and have seen them many times and they've seen me many times. Nick and I have played and collaborated quite a bit together: a trio with Christian Asplund playing Unit Series at Kilby Court, A Parking Lot for Hyacinths, Jesse QT's first bike opera, and then 3 times with Jason as well: Go Ahead Jesuits (percussion + alto/soprano sax + trumpet (Melanie Mezanec + trombone (Shawn Standing),one time I played bass clarinet on 2 songs during an It Foot set at Avant GaRawge, and one other time I played alto sax on one of those songs at another It Foot show (although I can't remember where or when that was). The times with Jason weren't quite as collaborative though and very short lived so I've been dreaming of playing with him for a long time. We decided to set aside some time to do something maybe like 8 months ago or something. We initially thought this would be a tour but then brainstormed some other options of ways we could approach working on music together. I am so glad we didn't just go on tour. Having all this time and space to work on music together is so exciting, nonstressful, invigorating, and refreshing. And having 2 shows at the end of this week in LA is going to be really fun and is a nice goal for us to shoot for.

Even with trying to figure the dynamic out and just seeing what it's like to play together today, we still made a bunch of cool stuff today that I'm already really excited about. I can't wait to see what happens over the course of this week! The sounds that everyone makes are just so cool and everyone has such strong personalities that there really can be no wrong. I'm excited to see how we puzzle piece things together and what territories it takes us to!

I told them that I've been thinking a lot about recorded music and it's effect on music in a historical context as well as in my own life/practice as a musician. Today we recorded some of our jams on cell phones. Regarding recorded music, Jason recommended some books: "Recording Angel" & "Recordings Ruin a Landscape".

When it got dark, we laid on blankets outside and looked up at the stars. It is one of the clearest night skies I can remember seeing. So many stars to look at! We saw a bunch of shooting stars. So cool! We started working on some acappella vocal ideas out there: THAT HORSE LOVES OUR SONG.



August 8, 2017

LOVE CONTEST is a new duo with Sharon Kim. Our first performance was last Saturday. Here is a pdf score collection of the songs we played!



July 10, 2017

1) I am so obsessed with The Roches album: Speak.

2) I updated my projects page and included links to a bunch of sheet music from different albums down in the discography section.



June 19, 2017

1) I made a Youtube playlist with a bunch of incredible music I have been listening to lately including John Jacob Niles, Ambitious Lovers, The Roches, Eddie Peabody, and some ragtime.

2) The Flowers on Loan tour was a blast. Here is a video clip from one of our shows of my song "My House". Towards the end of the tour, we recorded at Studio Studio Dada in Provo, UT with Stephen Cope. It was an incredible experience. Stephen was wonderful to work with. So quick and responsive, everything sounded great in the headphones, and the vibe was fantastic.

3) Similar Fashion is performing at The Bootleg Theater in Los Angeles next Tuesday, June 27!



May 4, 2017

It's May and it's already starting to feel really hot in Los Angeles. Yikes!

1) I just made a compilation of scores + lyrics from my 2016 album Variety Show. If anyone is interested, here is the pdf file.

2) Bright Whistles performed a new music-controlled videogame called ONWARD at RedCat Studio in April. Studio is a series that allows musicians, dancers, etc to experiment with new pieces in performance with a live audience. We were so lucky to be included and were thrilled that it helped us make a piece that we probably wouldn't have made otherwise. Luke Williams is the coding genius and put in tons of time making this game work. We were totally over the moon about how much fun the performances were.
Watch a video of our performance
Look at pictures of our performance

3) Big inspirations lately:
I've been listening to Louis Armstrong's Hot Five and Seven recordings. Incredible! Heebie Jeebies has been on repeat that past few days in my car.

Freddie Crump is probably the most inspiring musician/drummer/performer I've ever seen! WOW!!! Watch this video (his solo starts at 2:30)

4) I'm playing a bunch of shows this month!
May 12, 2017: Similar Fashion @Angel City Jazz Lunchtime Series at The Farmers Market.

May 14, 2017: Similar Fashion@ ETA (Highland Park)
(Owen Stewart-Robertson + Jesse Quebbeman-Turley + Logan Hone)
May 19: Oakland, CA @ Temescal Arts Center
May 21: Pt Arena, CA @ 215 Main
May 22: Chico, CA @ Naked Lounge
May 23: Eugene, OR Masterclass @ Lane College
May 24: Portland, OR @ Mothership Music w/Holland Andrews
May 25: Olympia, WA @ Voyeur
May 27: Seattle, WA: Gallery 1412 w/Hunter Gather
May 28: Vancouver, BC @ House show w/Streams
May 30: Boise, ID @ House show
May 31: Provo, UT @ Studio Studio Dada
Jun 1: SLC, UT @ Diabolical Records
Jun 3: Blue Diamond, NV @ Jam at the Barn Festival
Jun 4: Los Angeles, CA @ ETA** as a quartet w/Joe Moffett

Check the shows page for more details.
Thanks so much for reading and hope to see you soon!
<3 <3 Logan



Apr 5, 2017

Bright Whistles had a blast playing on Monday with Banny Grove. We were focusing on body language as a band. Our goal was to have really positive body language throughout the performance even if the sound on stage sucked (it did). It was a blast and a bunch of cool friends were there (thanks for coming!)

This Sunday and Monday, Bright Whistles is performing "Winter Brights Printed Whistles" at RedCat Studio. It is a new piece which includes a video game (coded by our bass player/synth master/singer/bestie Luke Williams) controlled by the music we play! It's going to be lots of fun and quite possibly fail. We can't wait!


In other news, I just got a clipboard like this one:

Christian Asplund told me that this style clipboard has been his composition machine for the last twenty years or so. I have been using it and it has been so inspiring! Always use detachable pages and manuscript. Sometimes I get really concerned about form while composing and ask myself if the thing I am writing is deserved by what has come before it in the piece and it can cripple me. In attempts to combat that roadblock, I have been trying to approach each page as a section. After different pages are used, you can order the detached pages however you like and rearrange at will.

Mar 29, 2017

Lately I've been listening to Stan Getz + Oscar Peterson Trio. I especially love the first two tracks. Stan's playing blows me away. Herb's comping is unreal and Ray Brown sounds amazing. Oscar's playing can feel show-offy sometimes but is undoubtably incredible, I can only imagine what it would be like to see him play live.

I think that one thing that has ruined modern jazz is the idea that harmonic complexity is a progression in music. Obsessing over extensions and harmonic weaving through already ultra-complex harmony is really boring. Charlie Parker got to a highly chromatic but clear approach to harmony but the purpose of it was not harmony, it was the rhythmic intensity of bebop that was exciting! I think that the more exciting developments in music come in the forms of texture, rhythm, form, aesthetics, feeling, and presentation.

Some other things I'm excited about right now are:
--drums (check these ones out)
--alien music (trying to imagine and compose music from alternate realities etc)
--heterophony
--book of music (leadsheets, simple compositions, complex compositions, etc all in the same book that any ensemble can play)
--performing as much as possible in lowkey settings

Community Band has been SO cool lately. Here is a recording from a couple weeks ago.



Mar 15, 2017

I had such a fun time at University of Reno the past 3 days! I performed a solo set, taught some private lessons, and rehearsed and performed with an incredible group of students. Here are some of the ideas that I ended up talking and thinking about with them:

Some composition exercises:
1. Set up a performance (low stakes environment is best. Living room, coffee shop, somewhere outside. A place where you feel you can try something without too much pressure). Imagine the space and the band that you have chosen and dream of what you want it to feel, look, and sound like. Sing ideas into a voicememo recorder. Notate ideas without a piano or instrument. Edit a little (or maybe not). Rehearse it with the band. Perform it. This is a great composition exercise and the main way that I compose music. Try to work quickly and not question yourself.

2. Write a piece in 15 minutes. First 5 minutes: play a game to generate material. Second 5 minutes: Put the material together in a way you like. Last 5 minutes: edit into a finished piece. This exercise is a good way to not second guess your intuition and to just make something.

3. If you have an idea for a piece, like a melody or chord progression, don't think of it as the beginning of the piece. Maybe it's the middle, the end, maybe it's NOT a climax. Try recording 5 different improvisations of the song onto your voicememo recorder. Try making them different lengths, try putting your idea at different points in the piece, etc. Christian Asplund says that improvisation is composition in real time. Think of your improvisations in that way. See what you like about each improvisation and then try putting sections together. Make a map of the piece on a blank sheet of paper. Leave plenty of room between sections in case you want to add more things inbetween or move things around. Once you have done all of this, then you can start writing notes on manuscript paper.

The more pieces you compose, the less important each piece becomes, the less weight each piece holds. And with more pieces, chances are greater that you will love one of them, if not most of them! Don't edit pieces too much. Just compose another piece.

Very little material is needed to put together a piece/song/performance with a band. Very little material is needed even to make a really complex, athletic, virtuosic, or highly coordinated piece of music.

To a student that was frustrated with his saxophone sound: Have you been using your saxophone as a tool to make cool music lately?

I also want to give huge huge huge thanks to Bryan and Lauren McAllister for bringing me out, hosting me, driving me around, providing me with food, and being such cool and inspiring people.


Mar 7, 2017

FunCoffin 2 is now online on Spotify and other streaming sites. We also have physical copies so let me know if you want one- I usually carry some in my saxophone case. I'm really happy about this album. We recorded it in a couple summer days in July 2016 in Christian Asplund's basement in Provo, UT. We had 4 microphones, one per person. Those ran into a mixer which had 2 outputs (left/right) that went into an interface. So basically all of the mixing was done live between takes by me. The mixing is a little funny sometimes but I am so happy about the sound we captured. Here is the artwork I made for the album:






Mar 2, 2017

This month is totally wild!

-Luke Williams and I have been recording a lot in our living room. We've put some of our songs/works in progress/audio files in this google drive.

-Tonight: Playing with Joshua Payne and then heading up to CalArts to play a late night dance party with Bright Whistles.

-Tomorrow I fly to Utah to record and perform at the NOVA Chamber Series with FunCoffin

-March 7: Desert Magic show at Lot 1. I'm going to be rocking on the drums. boom boom

-March 12-15 I will be doing a visiting artist residency at University of Reno. Performing and playing with students. Going to be so cool!!

-March 21-26: World Wood Day Festival in Long Beach. Very excited about this. More details to come.

-On top of all that, I'm playing with Joshua Payne most Mondays, Wed, and Thurs this month. Yippee!



Feb 3, 2017

I just posted a pdf file of the 2015 Logan Hone's Similar Fashion album zine which includes sheet music from the album as well as extra content including notes, drafts of pieces, lists, and drawings. It was so much fun making this. Feel free to download it & read it while listening to the album on bandcamp or spotify. I hope you enjoy it!


Jan 21, 2017

Impose Magazine wrote such a nice review of the new Bright Whistles song + music video "Homeward Bound"!


Jan 6, 2017

WOW! Totally shocked and honored to have the Similar Fashion album included on this All About Jazz Best of 2016 list next to Mary Halvorson, Matt Mitchell, Henry Threadgill!, and other incredible musicians.


Dec 28, 2016

This just in!

The new Desert Magic piece DANCE OF THE PLANETS is live

A note from Desert Magic about it:
"Dance of the Planets is a solar system sonification composed by Desert Magic and coded by Luke Williams. Instrumentation: Eight meantone classical guitars (the planets) and one MS20 analog synth (the sun). The piece uses the orbital speeds of the planets to determine their respective tempos, resulting in a flurry of cosmic polyrhythms. The website allows users to activate, deactivate, and randomize planetary patterns to create their own version of the piece. We have been working on this all year and are thrilled to share it. Thanks for listening and supporting!"


Nov 30, 2016

I am SO excited that I got to play on this new song by Luke Williams. It's like a slow jam anthem for the science fair:


Currently listening to:
Nick Drake: "Family Tree", Molly Drake: "Happiness", Best of Leonard Cohen, It Foot It Ears: Day Type, William Onyeabor: "Fantastic Man", Animal Collective "Painting With", I just saw Reggie Watts at El Cid and it was incredible, FunCoffin 2 (been listening a lot while doing album artwork! This will be released soon), FunCoffin 1.

Nov 24, 2016

Happy Thanksgiving!
I had a blast playing with Owen Stewart-Robertson last night in Los Angeles.
December is going to be really fun. Dec 4: BRIGHT WHISTLES is back! We are playing with Plum Professional and Banny Grove at Lot 1.
I will be going to Utah to do some shows and recording with Joshua Payne from Dec 15-18. Hope to see some friends while I'm out there!
December 18: Similar Fashion is playing at the Bootleg Theater with Evil Genius and Josh Johnson. This show is presented by Angel City Jazz Festival and we are very very excited about it!

Oh ps, Bill Wurtz is incredible: History of Japan


Nov 11, 2016

Currently checking out:

Moondog and Moondog 2, Jordanna "The Wallet", Mauricio Kagel (How have I never heard of this??? WOW. Thanks Booker), Ian McCulloch "Candleland" (There is something amazing about this album. It's a funny balance of bad and good that I have been really enjoying. Kindof bad songwriting with kindof uninteresting melodies but it all sounds kindof amazing at the same time? I really enjoy it) I just had a great run at Amoeba a few weeks ago. I got Owen Pallett "Heartland" (Have been meaning to buy this ever since I got obsessed with it in highschool after opening for him at Kilby Court), The Shaggs "Philosophy of the World", The Cranberries "Everybody Else is Doing It, So Why Can't We?", Rick James "Anthology", Dan Deacon


Oct 26, 2016

HOME FROM TOURS!
Touring in September and October was so much fun! So many great shows with so many great people. I am very excited to be back in Los Angeles. I am going to do a solo show, playing with Desert Magic, and coming in November and December=2 Similar Fashion shows!
In the meantime, getting a little rest and hanging out in Los Angeles!
<

Sep 29, 2016

I've been on tour for the last 2 weeks with my band Similar Fashion (w Lauren Baba, Greg Uhlmann, Jesse Quebbeman-Turley). We are playing a homecoming show tomorrow in LA (Friday, Sept 30). If you are in town and able to make it, it would be incredible to see you there!! I'm BEYOND excited about the stuff we're doing and think you would really really like it. Really wild and fun. Something like avant-rollercoaster-jazz-n-roll or something. Lots of noisy grooves, singing, dancing. Saxophone, viola, guitar, drums. The band is ON FIRE and I'm just freaking out excited about it.

We're playing at Basic Flowers
242 S Broadway, Los Angeles, CA 90012
Starts right at 10pm and we play right at 10:40

Here is the fb event: https://www.facebook.com/events/893806410753411/

Would be incredible to see you there if you can make it!!
<3 Logan

Sep 27, 2016

SIMILAR FASHION TOUR has been so so amazing! Thanks to everyone that has come to see us, danced along, bought shirts and CDs, put us up in their homes.. YOU ARE THE BEST! Our homecoming show in LA is going to be this Friday. It's going to amazing!! It's a late one, but a very punctual one. Grape Room plays RIGHT at 10pm and we play at 10:40. See you there!! Here is the facebook event: LINK

Sep 8, 2016

A few months ago I was asked by AllAboutJazz Italia to write a list of 10 things I had been listening to. Here it is! Translated from English to Italian and now back to English via googletranslate=some cool translation things happening!

Similar Fashion is leaving for tour next week! Also I just posted some solo dates in the east on my shows page. Here is a little tour teaser for this Similar Fashion tour!



Sep 2, 2016

Hi! September is here! Hopefully it will cool down a little in Los Angeles. Been way too hot for me.
Similar Fashion is touring around the west coast this month! Check the shows page for details. I am also psyched to announce that I will be doing a solo tour on the east coast in October! I'll post those dates really soon.

Lately I've been listening to Luke Williams amazing ongoing MOONS project (check it out on youtube!), Julius Eastman "Stay On It", Magnetic Fields "Strange Powers", Pat Jordache, Arthur Russell "I Like You!" (gets better every time!!), Jerron Paxton, lots of Grape Room, and LOVING Mary Halvorson's Meltframe album-it's incredible. That's most of it I think.


Aug 17, 2016

Similar Fashion goes on tour next month! See you on all over the west coast!





July 29, 2016

Adriana Crespo painted me?!



Listening list as of late:
Hannah Diamond: "Pink and Blue", James Brown 20 Greatest Hits, "Too Significant To Ignore" by AJ Cornell & Tim Darcy, more Charmaine's Names, Grape Room, Banny Grove, Deerhoof Apple O', just started watching Arthur Season 1 on youtube. Oh! and last night I played an impromptu house show in Highland Park! A 3 song set of pieces for snare and voice based on Poems From Cave 17 by Dorothea Grossman!

July 26, 2016

Have you seen this?? Thanks to Jessica Li for telling me about this!!
ALEX CALDER: Le Cirque de Calder (1961)

July 20, 2016

New music vid yo!


July 19, 2016

Hey! I am in Utah. It's 1:55am. I just saw Deerhoof play at Urban Lounge. WOWOWOW they are so great. Their new album THE MAGIC has been blowing my mind over and over the past few weeks. I came out here last Tuesday to record an album with FunCoffin: Christian Asplund, Stuart Wheeler, and Jesse Quebbeman-Turley. We had a lot of fun recording all DIY to 2 track and played a fun show at the Avant Garasement.

Video time!! Here is a piece from MATCHES @ the wulf in Feb. Very excited about this. It's called MATCHES ON MOUNTAINS. Hope you love it! Bye!


June 26, 2016

BREAKING NEWS:
SIMILAR FASHION transitions into jazz super stardom this Tuesday at the Blue Whale
After two years of emails, the Los Angeles-based quartet has succeeding at securing a date at the iconic downtown club, the Blue Whale. The band will be playing hits, new and old, such as "Portrait of Arthur Russell", "Get Away", "Melonface", "We Watched the Car", and maybe even "Snapshoot"! The concert will be at 9pm this Tuesday, June 28.

BUT! In all seriousness, this is going to be a really cool show! We are playing with Corey Fogel +2 featuring Joey Sellers and Beth Schenck. Come on out! Here is the Facebook event

Hope to see you there! xoxo

June 21, 2016

VARIETY SHOW is released! Also Similar Fashion is playing at the Blue Whale on June 28. Gonna be a greeeeaaattt show with Corey Fogel's Trio featuring Joey Sellers and Beth Schenck. Here is the event page

June 3, 2016

On tour with Ben, in Joshua Tree. It's hot! We stayed in this very strange abandoned motel last night (not totally abandoned, but going to be remodeled soon and our friend is watching the place for a while). VARIETY SHOW comes out on June 14! Released a single today:



May 25, 2016

Similar Fashion hitting the Smell last month!



Some things I've been listening to lately:
Art Tatum with Benny Carter and Louis Bellson, Anohni: Hoplessness, Horse Lords: Interventions (saw them last week at Non Plus Ultra), Tyondai Braxton: HIVE1, Robert Ashley: Improvement, Cyndi Lauper, and spending lots of time hearing my new album Variety Show while mixing it (subtle hint)((out June 14th!))

May 23, 2016

Touring lots in the next month with my solo project and Desert Magic! Check the shows page for all the details.






April 25, 2016

Got a great review in Italian on AllAboutJazz.com for the Similar Fashion album. The google translation is hilarious and beautiful! Here is the link!

Last night some great friends (Sharon Kim, JNQT, Ryan, Ted, Garrett, Diego) performed a new living room opera I wrote called ON LIFE JUST BECAUSE. They were amazing! Hopefully some video documentation to come..

I am gearing up for a solo tour in June with California's Bellow. We are going to be touring across the southwest. Updates to come soon. XOXO



March 14, 2016

Here's a short clip of MATCHES @ the wulf!




March 7, 2016

A few things I've been inspired/reinspired by lately:
It Foot It Ears, Alice Coltrane Turiya Sings, Tyondai Braxton Grand Central Market, Nico Muhly Mother Tongue (been a huge fan of the last suite on it for a while but just now getting into the first 2 suites), Luke Williams new album, Booker Stardrum's album on NNA Tapes, THOMAS, Daniel Wohl, Xiu Xiu The Air Force, OneOhTrix Point Never R Plus Seven, Charmaine's Names, James Ferraro, Robert Ashley, Ben Babbitt, Kate Bush The Dreaming + Hounds of Love, finally checking out Scott Walker Scott 3.

Similar Fashion is playing a show on Saturday with Bad Luck (Seattle) and Oort Smog.



January 21, 2016

The Similar Fashion tour starts today!! Hope to see you out there! Details are on the shows page.



December 14, 2015

Similar Fashion is going on tour in January!
Jan 21: Bakersfield, CA
Jan 22: Oakland, CA
Jan 23: Arcata, CA
Jan 24: Seattle, WA
Jan 25: Portland, OR
Jan 26: Boise, ID
Jan 27: Provo, UT
Jan 28: Ephraim, UT
Jan 29: Las Vegas, NV
Jan 30: Los Angeles, CA

Check the shows page for updates and details!

November 19, 2015

It's here! Released November 19, 2015 on pfMENTUM! Release concert tonight at MorYork! Woooooooo


November 11, 2015

The Similar Fashion album is being released in less than 2 weeks! On November 19, the album will be released digitally and physically for the world's ears to hear.
We are celebrating with a release show at MorYork Gallery in Los Angeles. I am THRILLED that Chris Speed Quartet will be joining us featuring Eyvind Kang: viola, Jeff Parker: guitar, and Matt Mayhall: drums
It's going to be a great night!

September 1, 2015

I am going on a short California tour with Gregory Uhlmann this week! We are playing shows in Los Angeles, San Francisco, Berkeley, and Sacramento. Check the shows page for details!

Also, we made our Kickstarter goal! Thank you to everyone for donating, it means so much!

August 23, 2015

About 2 days left and we are almost to the goal. We still need your help though so if you can, please contribute!

July 28, 2015

Similar Fashion will be releasing an album this fall on pfMENTUM. So so excited about this! But first we need help to release it. If you can manage it, please contribute and help us finish this album. Any size contribution helps!

https://www.kickstarter.com/projects/loganhone/logan-hones-similar-fashion-debut-album





June 23, 2015

2015 is a really exciting year! Here are some things that happened:
I graduated from CalArts with a BFA Jazz Studies Degree

I did a west coast tour with Luke Williams and Stuart Wheeler. We played in Bakersfield, Oakland, Sacramento, Portland, Olympia, Seattle, Boise, and Salt Lake City

I began scoring films with Giant Frame

I released the new Bright Whistles album "White Bristles" on June 18, 2015 @ Velour in Provo, UT

I performed at the Jam at the Barn Festival with Vinny Golia's Large Ensemble, Bad Babies, and Desert Magic.

Desert Magic just released a new album on a-round-the-sun.com
Now I am back in LA and am really excited for some things that are coming up!
I will be finishing the new Logan Hone's Similar Fashion album and releasing it on pfMENTUM later this fall.

The new FunCoffin album (with Christian Asplund, Stuart Wheeler, Robert Willes, Aaron McMurray, and Jesse Quebbeman-Turley) will be released in August.

I will be playing in The Industry's opera "Hopscotch"

I will be touring with Deseret Experimental Opera Company