LOGAN HONE'S SIMILAR FASHION
ABOUT:
Logan Hone: Alto Saxophone, Bass Clarinet
Lauren Baba: Viola
Gregory Uhlmann: Guitar
Jesse Quebbeman-Turley: Drums
Similar Fashion is an avant-rollercoaster-jazz-n-roll band from Los Angeles. Led by saxophonist and composer Logan Hone, Similar Fashion features Lauren Baba (viola), Jesse Quebbeman-Turley (drums), and Gregory Uhlmann (guitar). The band combines Logan's kinetic compositions with joyous singing, intense interlocking grooves, and dancing.

Their debut album Logan Hone's Similar Fashion was released in 2015 on pfMentum and was described by LA Weekly as "a mostly irreverent romp full of chaotic sounds." Downtown Music Gallery called it a "breath of fresh air" that "certainly does feel good." It sure does! Similar Fashion is very active performing and presenting lectures around Los Angeles and the western US.
PRESS:
"a mostly irreverent romp full of chaotic sounds deftly organized by Hone"
-LA Weekly
"boldness, irreverence and humor enough."
-All About Jazz Italia
"Similar Fashion is a powerful statement by a new voice - one I can't wait to hear more from."
-
Nate Wooley
More press
HERE
.
Video:
UPCOMING SHOWS:
Jun 10, 2017:
Similar Fashion
@ The Folly Bowl (Altadena)
Jun 27:
Similar Fashion
@ Bootleg Theater w/Jonah Parzen-Johnson & Booker Stardrum
Event page
Facebook event
RECENT SHOWS:
May 14, 2017:
Similar Fashion
@ ETA (Highland Park)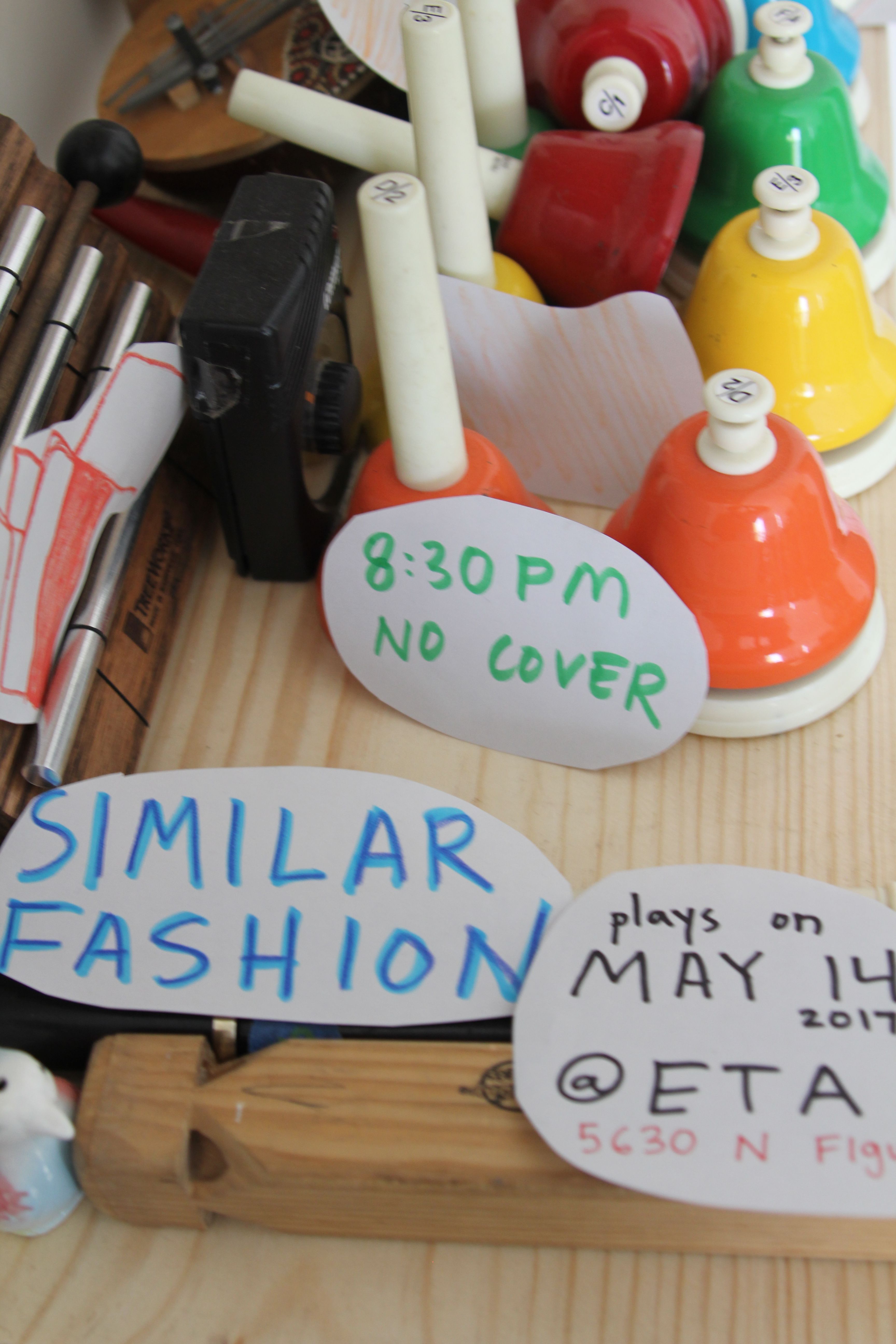 May 12, 2017:
Similar Fashion @ Angel City Jazz Lunchtime Series at The Farmers Market.
Here is the Facebook event

Dec 18, 2016: The Bootleg Theater w/Evil Genius and Josh Johnson (Presented by Angel City Jazz Festival)

Nov 9, 2016: The Offbeat (LA)

Similar Fashion West Coast Tour
Sept 16: Las Vegas, NV @ The Dispensary Lounge
Sept 17: Provo, UT @
Avant GaRawge w/Christian Asplund/Stuart Wheeler & Gavin Ryan
Sept 18: SLC, UT @
Kilby Court w/it foot it ears, Angel Magic, and Muzzle Tung
& afternoon show @ 12 Minutes Max (SLC Library Series)
Sept 19: University of Utah Masterclass @ 10:30am and Twin Falls, ID @ College of Southern Idaho
Sept 20: Boise, ID @
The Olympic Venue
Sept 21: Seattle, WA @
Hollow Earth Radio
Sept 22: Portland, OR @
Turn! Turn! Turn! w/Bonepocket and Mike Gamble
Sept 23: Portland, OR @
Waypost w/Kulululu & af
Sept 24: Arcata, CA @
The Sanctuary w/The Crenshaw & Choir of the Deep
Sept 25: Pt Arena, CA @
215 Main
Sept 26: Berkeley, CA @
Berkeley Arts Festival w/Jordan Glenn's BEAK
Sept 27: Reno, NV @ Reno State University (The Rotunda)
Sept 30: Los Angeles, CA @
Basic Flowers w/Grape Room
July 30, 2016 @ The Folly Bowl
June 28, 2016 @ The Blue Whale w/Corey Fogel +3
June 4, 2016 Similar Fashion-1+2 @ Jam at the Barn Festival in Blue Diamond, NV
May 7, 2016 Similar Fashion// Dina Maccabee // MALL MALL // Evan Conway @ 1142 E 11th st Los Angeles
May 1, 2016 @ Open Gate Concert Series, Eagle Rock Center for the Performing Arts
April 7, 2016: The Smell w/Like a Villain (PDX)
March 12, 2016 @ Highland Park House w/
Bad Luck
and Oort Smog
February 17, 2016 @ 1604 Concert Series w/
Nathaniel Morgan
Group
Logan Hone's Similar Fashion January West Coast Tour
Jan 30: Los Angeles, CA: Character Projects
Jan 29: Las Vegas, NV: The Dispensary Lounge
Jan 28: Ephraim, UT: Snow College, Clinic + Concert
Jan 27: Provo, UT: Writ & Vision w/It Foot It Ears
Jan 26: Boise, ID: Ming Studios w/Scrivner/Stevens/Priddy
Jan 25: Portland, OR:House Show w/Tale in the Telling
Jan 24: Seattle, WA: Cafe Racer Cry & Roar 6
Jan 23: Arcata, CA: The Sanctuary w/Jonathan Kipp
Jan 22: Oakland, CA: Studio Grand w/Weiner Kids
Jan 21: Bakersfield, CA: Dagny's
November 19, 2015: Album Release Show @ MorYork Gallery w/Chris Speed Quartet feat. Eyvind Kang, Jeff Parker, Matt Mayhall
Feb 13, 2015: Rockwood House w/Fast Kid Slow Animal & Kidi Band
Dec 6, 2014: MorYork Gallery w/Grampus
Nov 15, 2014: 1604 Concert Series
Jul 10, 2014: Curve Line Space (first show!)