IT LO BLOG


August 13, 2017: IT LO Residency in Torrey, UT Blog #1


I am in Torrey, UT with IT LO: a new project combining It Foot It Ears (Jason Rabb and Nick Foster) with me! We are so lucky to be occupying Jason's parents' home for 5 days (Sunday-Thursday) to jam, make up music, rehearse, hang out, eat, and sleep. I couldn't be more excited about this. We are surrounded by a mindblowing vastness of space, with a perimeter of mountains and red rock bluffs. This evening there was a rising pink glow for a sunset. We can see the Henry Mountains, which Jason told us is one of the last places where wild buffalo roam. We are about a 5 minute drive away from Capitol Reef National Park. The house is wonderful. It is small, very simple, and very cozy and comfortable.

Jason was born in 72. Nick was born in 82. I was born in 92. Very cool and weird. It's really fun talking with these guys about music. The 3 of us have been so invested in the Utah music scene, and we all have a lot of shared/overlapping/seperate knowledge about it, which is really fun to talk about.

It was about a 4 hour drive from my house, which went by quite fast. We listened to Purr Bats and Jelly Roll Morton. We arrived and started to unload food (Julie was so nice to pick up groceries for us!) and gear. We rearranged the house. The house is basically in 2 halves: 1) one large room divided into 3 sections: kitchen, dining area, living room area. 2) a small perpendicular hallway with a bathroom at the center, a small laundry room, and a room on each side. We took out the dining table and set up gear there, sandwiched between the kitchen and living room area. The room is wonderful. There are many windows. The breeze blows through the front door to the back door, with screens on each. While rehearsing, we can see the magnificent views all around. It's so incredible!




Our set up right now:

Nick:
Drumset: snare, kick, low rototom with a batter head, floor tom.
Cymbals: hihat, crash, ride
woodblocks
Yamaha DX synth: plugged into keyboard amp
1 vocal mic




Jason:
Fender Jazzmaster Guitar (Elvis Costello model)
Fender amp head with brown speaker cab
RAT Distortion pedal, which sits on the amp and is always turned on with a low amount of gain
Music stand holding: guitar preparations (alligator clips, cloth octopus legs) & a fm radio
1 vocal mic




Logan:
Conn 6m alto saxophone
1 vocal mic
Trap table with castanets, a cowbell, a splash cymbal, and rattles

There is also a Roland synthesizer that we might use
The vocal mics are plugged into a mixer which is plugged into a single EV speaker
-------------------------------------------------------------------
I have never heard the words glissandi & gliss as much as I do when I'm with It Foot. They're obsessed! It's great to hear it so much.

Before we even got all set up, we were jamming. Nick was making up some ideas on the keys/drums. We started working out a song. We made some sandwiches with fried egg, tomato, avocado, mayo, mustard, and green spicy sauce which we ate on the porch. We made up and arranged another song.

It's pretty strange that, with all of the space around us and the distance from one house to another, there is a camper really close to this house where a family is working on something, maybe building a fence. And they are polygamist! The women have dresses on and wild hairdos. I want to talk to them. I said hi to all the boys. I didn't see any young girls, only young boys. There were 2 women.

Nick is really excited about doing a bunch of left hand keyboard while drumming. He's been doing that with his band Palace of Buddies for years and he is really really good at it. He is also really into electronic music and synthesis and makes really cool sounds. It's so awesome to have that perspective.

Jason does the coolest stuff with his wammy bar.

I really am trying to be in the moment and not have a desire to structure and put order to musical events that we make. But at the same time, with improvising pieces, I crave order. I especially crave harmonic narrative and harmonic clarity between the entire ensemble. I love groovy vamps within certain pitch sets, but that can wear on my ears sometimes. I am really interested in trying to figure out ways to approach music in a way that a jazz band plays over a standard. But change the ingredients. Change the common and shared languages. Find structures to improvise within as if we are "playing the changes". Finding ways where we are just playing a song together, but not necessarily in a meticulously ordered and calculated way (though sections and moments like that would be very cool to have as well!).

Later in the evening, right after it got dark, we did some jamming. We did this really weird goth song, which was a blast. We're totally just figuring out how to work together. It's an interesting dynamic between the 3 of us. Nick and Jason have such a long history of playing together. I know their music really well and have seen them many times and they've seen me many times. Nick and I have played and collaborated quite a bit together: a trio with Christian Asplund playing Unit Series at Kilby Court, A Parking Lot for Hyacinths, Jesse QT's first bike opera, and then 3 times with Jason as well: Go Ahead Jesuits (percussion + alto/soprano sax + trumpet (Melanie Mezanec + trombone (Shawn Standing),one time I played bass clarinet on 2 songs during an It Foot set at Avant GaRawge, and one other time I played alto sax on one of those songs at another It Foot show (although I can't remember where or when that was). The times with Jason weren't quite as collaborative though and very short lived so I've been dreaming of playing with him for a long time. We decided to set aside some time to do something maybe like 8 months ago or something. We initially thought this would be a tour but then brainstormed some other options of ways we could approach working on music together. I am so glad we didn't just go on tour. Having all this time and space to work on music together is so exciting, nonstressful, invigorating, and refreshing. And having 2 shows at the end of this week in LA is going to be really fun and is a nice goal for us to shoot for.

Even with trying to figure the dynamic out and just seeing what it's like to play together today, we still made a bunch of cool stuff today that I'm already really excited about. I can't wait to see what happens over the course of this week! The sounds that everyone makes are just so cool and everyone has such strong personalities that there really can be no wrong. I'm excited to see how we puzzle piece things together and what territories it takes us to!

I told them that I've been thinking a lot about recorded music and it's effect on music in a historical context as well as in my own life/practice as a musician. Today we recorded some of our jams on cell phones. Regarding recorded music, Jason recommended some books: "Recording Angel" & "Recordings Ruin a Landscape".

When it got dark, we laid on blankets outside and looked up at the stars. It is one of the clearest night skies I can remember seeing. So many stars to look at! We saw a bunch of shooting stars. So cool! We started working on some acappella vocal ideas out there: THAT HORSE LOVES OUR SONG.



Aug 14, 2017: IT LO Residency in Torrey, UT Blog #2

Today we practiced in the morning and then went on a really nice hike to a small waterfall west of Capitol Reef. It was so fun and we saw a huge orange and white mushroom. I took a picture but it seems my bluetooth isn't working and I can't transfer the pic to my computer. darn!

We practiced some more and then watched Sunset Blvd (1950). It was amazing. There is something about film, and the directedness of it, like the fact that the video clips are spliced together, that makes it feel too perfect for me. Maybe it's just the fact that it exists in it's form for eternity that bothers me (the same with audio recordings).

The movie also gave me thoughts on fame, making it, and being recognized. I feel so weird about that. Just simply being someone that moved to LA to be a part of a scene, making recordings, getting press, getting shows, travelling, making any money at all, is a very strange lifestyle. On one hand, moving to LA is amazing because it's a place where there is a community of people making things, people willing to engage with the things I make, and people willing to make things with me. On the other hand, I feel like I have such a music obsession and almost guilty that anyone would want to come listen to me, or buy an album, or pay for me to play. And the fact that I do make music that I enjoy and I feel like other people might enjoy and feel like I want them to hear it, is weird as well. I guess the way forward for now is to keep trying to play as much as feels good and with people that are fun to play with and make stuff when I feel like making stuff.

Update on the wammy bar: Jason was trying to figure out a way to play without a bass player and thought the wammy bar could help to get down to lower notes.

Music is logistics and because of that, happenstance. It's strange that place and time affects what you make. You never know what's going to happen, how everyone in the band is feeling or what they are going through at the time.

Monday feelings about creativing this IT LO music: I'm feeling a tendency to finish pieces is kinda bugging me. I wish we just played and improvised more. Like voice memo record 100 improvised songs and then pick the 6 favorites and workshop them a bit. But I feel like if you actually did 100 songs, chances are that your 6 favorites probably wouldn't even need much workshopping.

I have been feeling like I want to (in general) play way simpler songs. I feel like the simpler and more "normal" the material is, the more flexibility it gives me within it's clear, simple, and solid framework.

List of influences on the brain today:
Freddie Crump
Jelly Roll Morton band
John Jacob Niles
Scott Walker
Caitlyn Conlin
Twin Peaks (Nick has got Twin Peaks on the brain!)
The circus but gentle
Silent film: gentle
happy pleasant
Disney but more mellow

Recommendations from Jason and Nick:
"The Collaborative Habit" by Twyla Tharp
composer Chen Yi



Aug 15, 2017: IT LO Residency in Torrey, UT Blog #3

Today, we went on a short hike up a wash in Capitol Reef National Park. It was so cool up there. There was an insane echo that repeated about 3 times and had an instant cutoff, almost as if there was a gate plugin on it. We saw a mountain goat really close too. I've been writing a lot of lyrics in my notebook throughout the day.

In this collaboration, with all of these democratic compositional decisions happening, I am noticing the types of musical ideas I am trying to do/push for. I'm trying to be open to what Jason and Nick try to bring. These aren't completely related to IT LO this week, and this is a weird list, but here are some compositional tendencies I have noticed in myself recently:

Tendency towards being casual
Tendency towards gentleness
Tendency towards 4/4
Tendency towards major, lots of 2nds
Tendency towards improvisation
Tendency towards openish forms
Tendency towards strong synchronicities
Tendency towards fun
Tendency towards simpler
Tendency towards shimmering energy
Tendency towards less drums
Tendency towards mezzo
Tendency towards less notes
Tendency towards collaboration
Tendency towards theater, show music, the circus
Tendency away from noticeable tools/techniques/methods
Rejection of the score as a tool
Fear of masculinity
Fear of overly virtuosic/technical music. But often times playing really difficult music with musicians with super high skillsets
Tendency away from the typical
Tendency away from the weird typical
Tendency away from epic
Tendency toward friendly



Aug 16, 2017: IT LO Residency in Torrey, UT Blog #4

6:33pm

Today:
woke up around 9:30am
Watched a little Quantico on netflix. It's like the worst show ever but I love watching it.
Made egg sandwiches for breakfast
Cut my left index finger really bad while slicing bread for my 2nd sandwich
Practiced
Went grocery shopping
Practiced more

It hasn't been easy putting together this music. We rehearse for a little bit and it's like always so intense that we can't rehearse for long periods of time. I mean it's not INTENSE, it's chill, but I think it's because we get super meticulous about things. When making so many democratic decisions, putting together song forms is incredibly difficult and time consuming. Also, I feel like since we are rehearsing like 4 times a day, and hanging out together inbetween, it's really intense interacting with everyone so closely, even though we all get along great and love hanging out together.

I feel like a method of music making that I'm really excited about and interested in exploring:
Knowing a song really super well (having a song composed and complete)
Just playing it and jamming it with friends and being flexible with the song, maybe letting sections extend sometimes, etc
Not being precious about anything, maybe just playing song after another song in the living room.



Aug 17, 2017: IT LO Residency in Torrey, UT Blog #5

Today we played through all of our songs 4 times! We also added an It Foot song that I'm singing on called SANGEAN (Short Wave). We did run throughs in the morning, late morning, around 4pm, and around 9:30pm. In between rehearsals, we napped, walked around Torrey, made food, and hung out.

I feel like after rehearsing today, I am starting to feel comfortable with the material and being able to just play it a little more instead of being occupied with trying to remember what's about to come next.

Today I'm feeling really great about this whole collaboration. I'm really excited about the way we put stuff together. It was really natural. We just kinda made up songs together like a rock band does it. Everyone made up their parts and made suggestions to each other and worked on it very slowly. With me adding vocal melodies and lyrics as we go. I am so excited about the set of music we put together and can't wait to play tomorrow and Sunday in Los Angeles!

Aug 18: IT LO @ Battery Books w/Caitlyn Conlin (w/ Kat Shuman and Alex Wand)

Aug 20: IT LO @ Bootleg Theater w/Chord Four + David Binney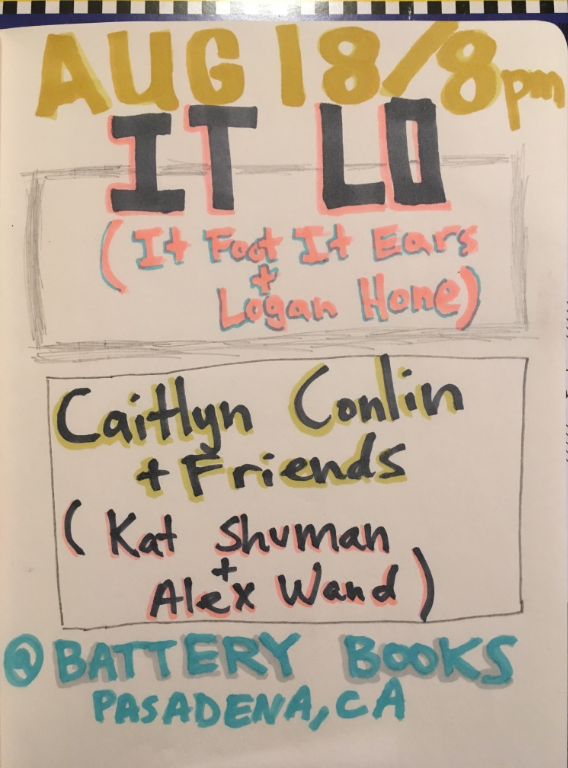 -----------------------
I'm also really excited that Jesse Q-T & Friends released an amazing new album today called NAPS. It's so so good.


Oh also, California's Bellow released a new album called LIVE and it is so good too!




Aug 19, 2017: IT LO now in LA Blog #6

Our show at Battery Books last night was great! Here is a video of our full set:


I'm wondering if we should switch up the set order for our show tomorrow at Bootleg?

I really want to record this It Lo project. We hadn't decided that we would for sure record this week but I feel like this is the only chance we'll get. If we don't record it, who knows how long it will be until the next time we could get together to record it and even when that does happen, chances are that we'll want to play new material anyway! I'm proposing to Nick and Jason that we record it tomorrow at our house with Luke Williams engineering it. Updates to come.



Aug 20, 2017: IT LO in LA Blog #7

(written on Sept 6, 2017):
Today we:
1) We recorded the album! The plan was to record it, mix it, make artwork and CDs, and release it at the Bootleg show. Which we did! Pictures from the recording session are below.

2) Played a great show at The Bootleg Theater w/Chord Four and David Binney. We played first. People were seated in chairs and hanging out. The light was really great on stage. We just went for it and did our thing. It was really fun!

Pictures from recording session: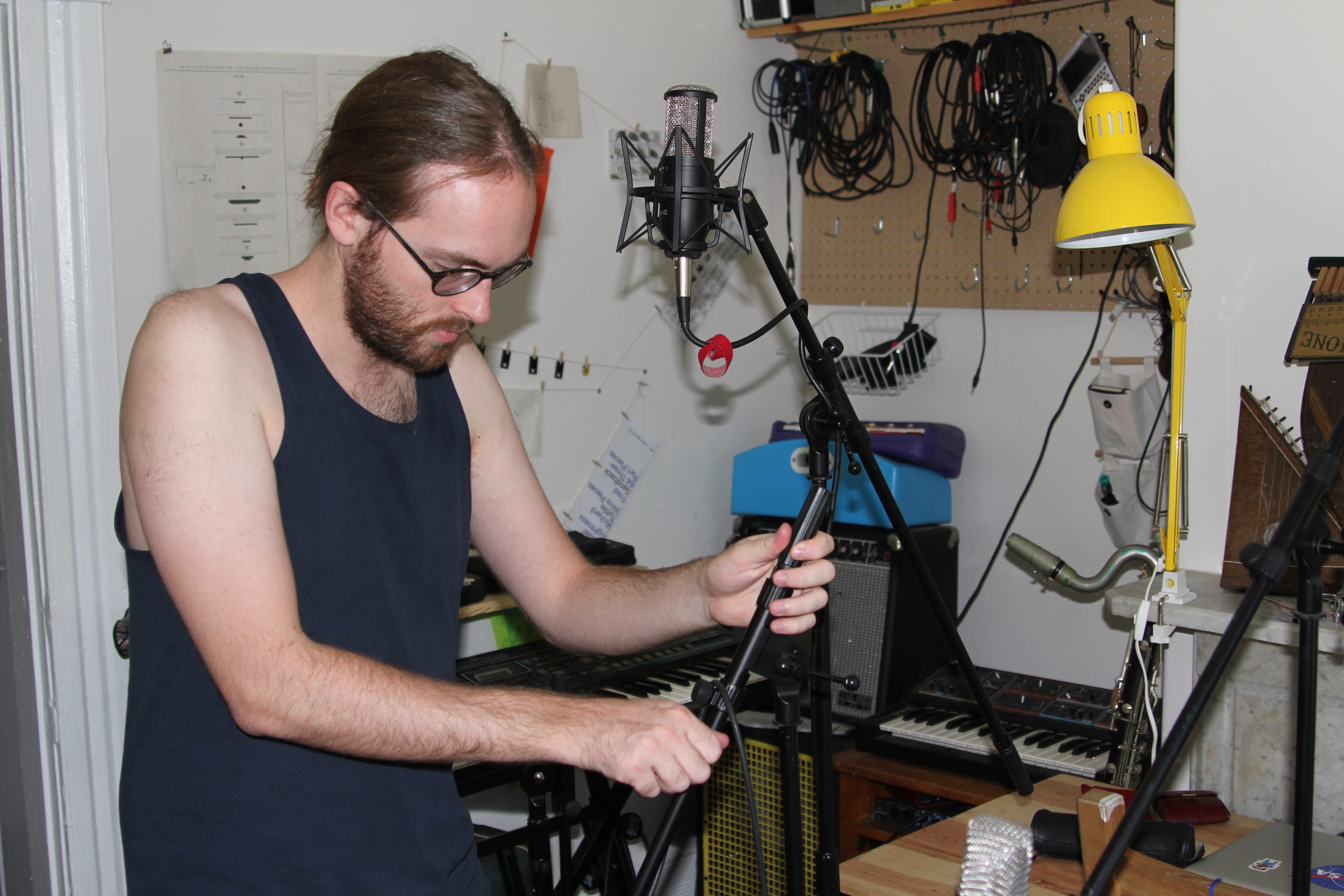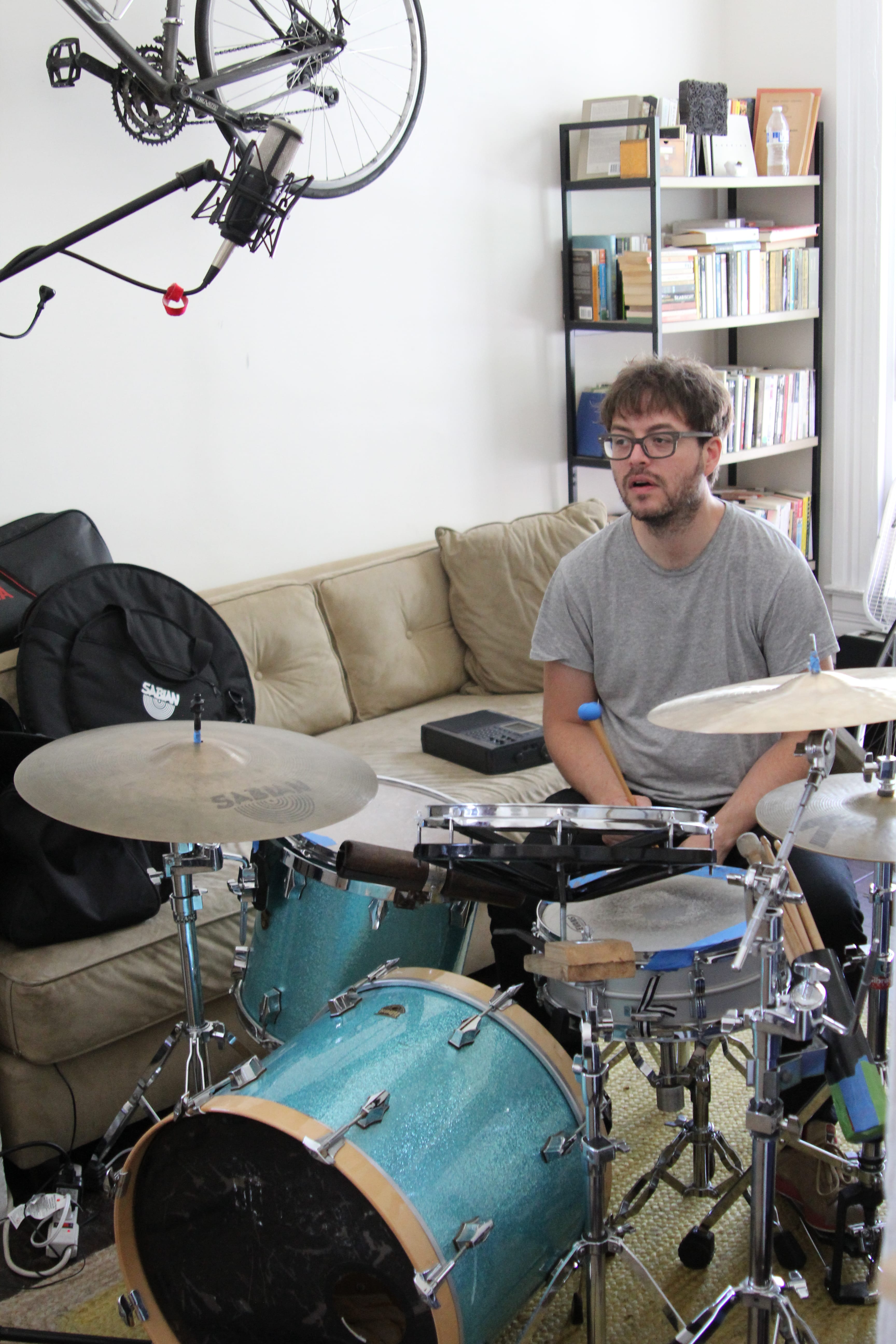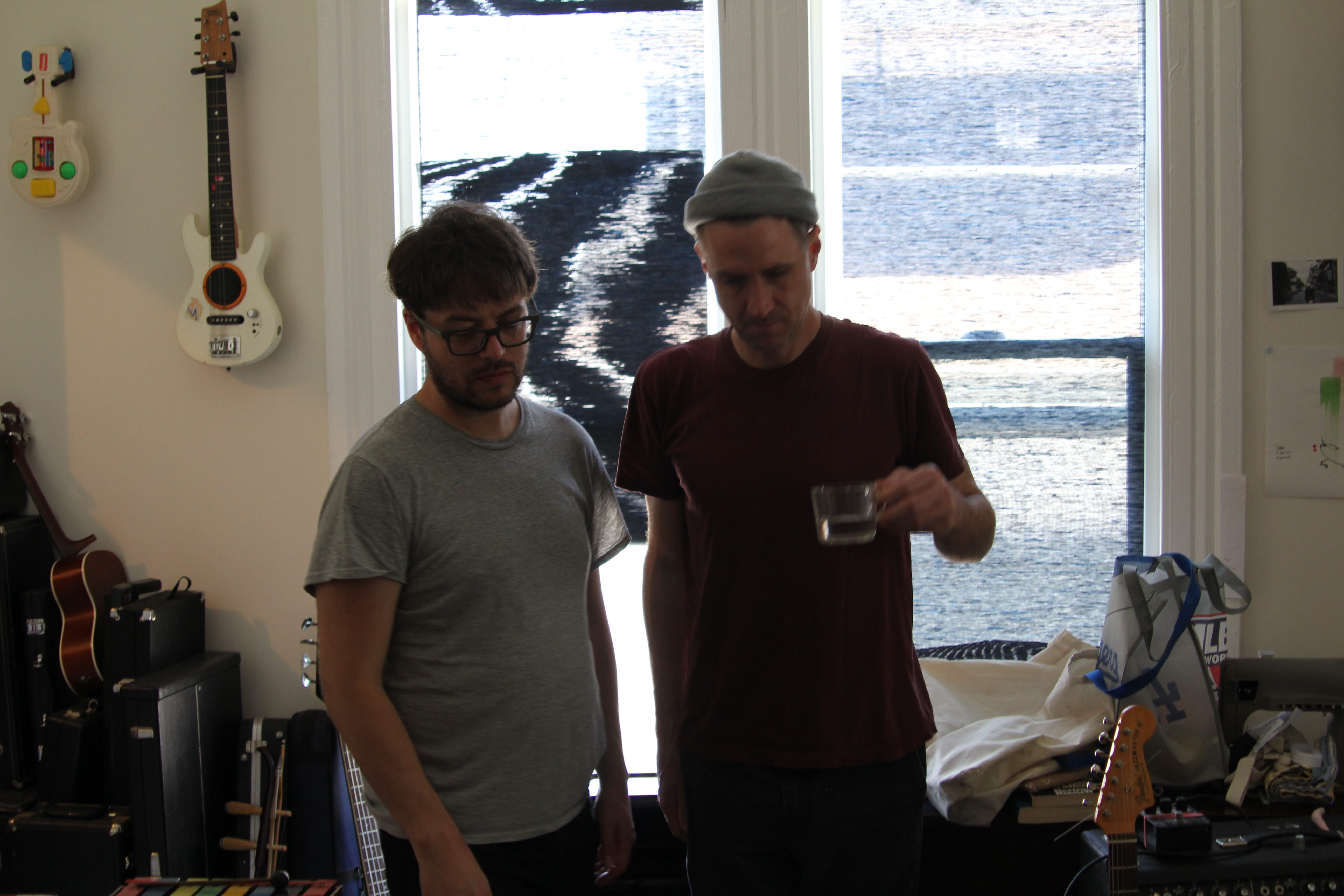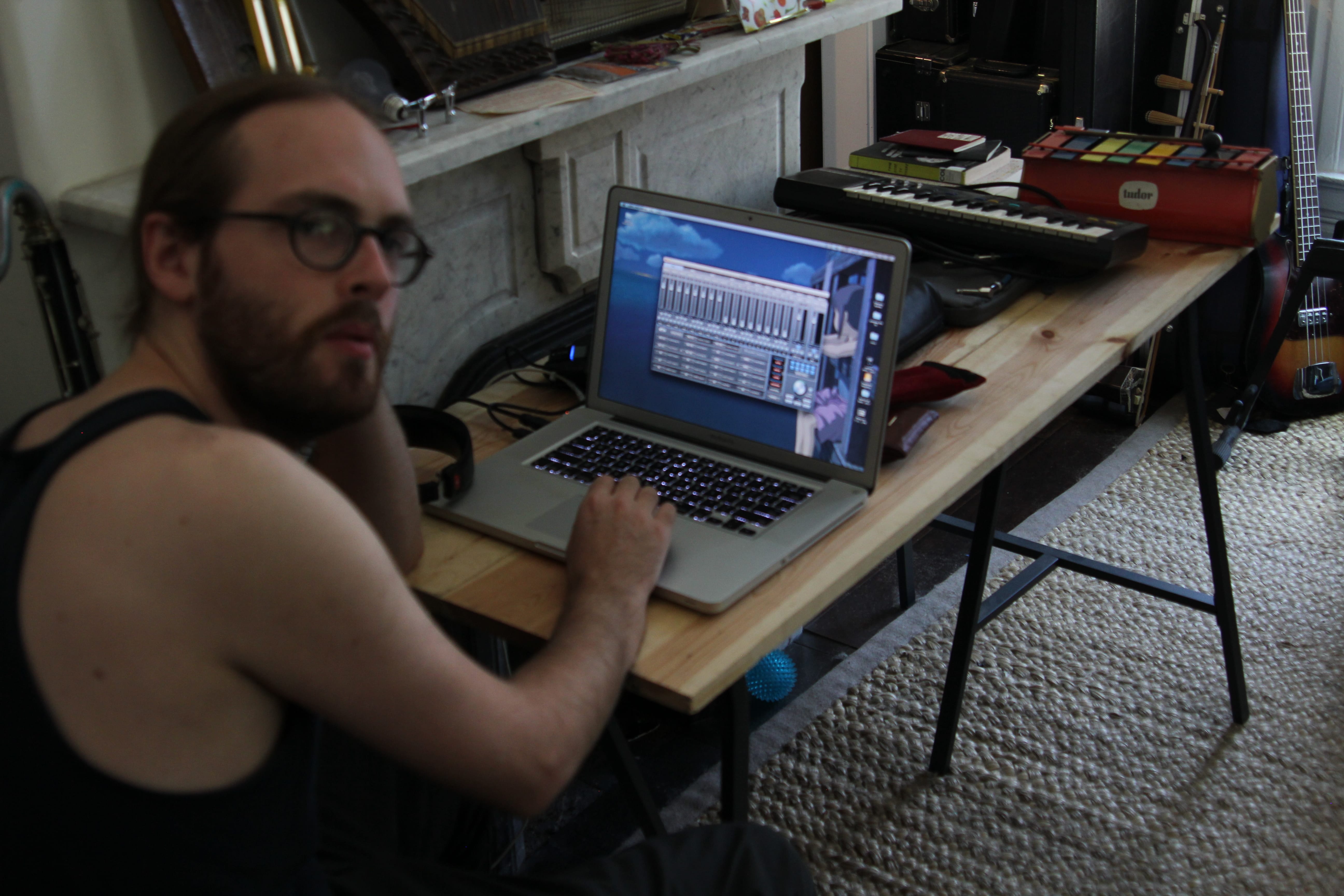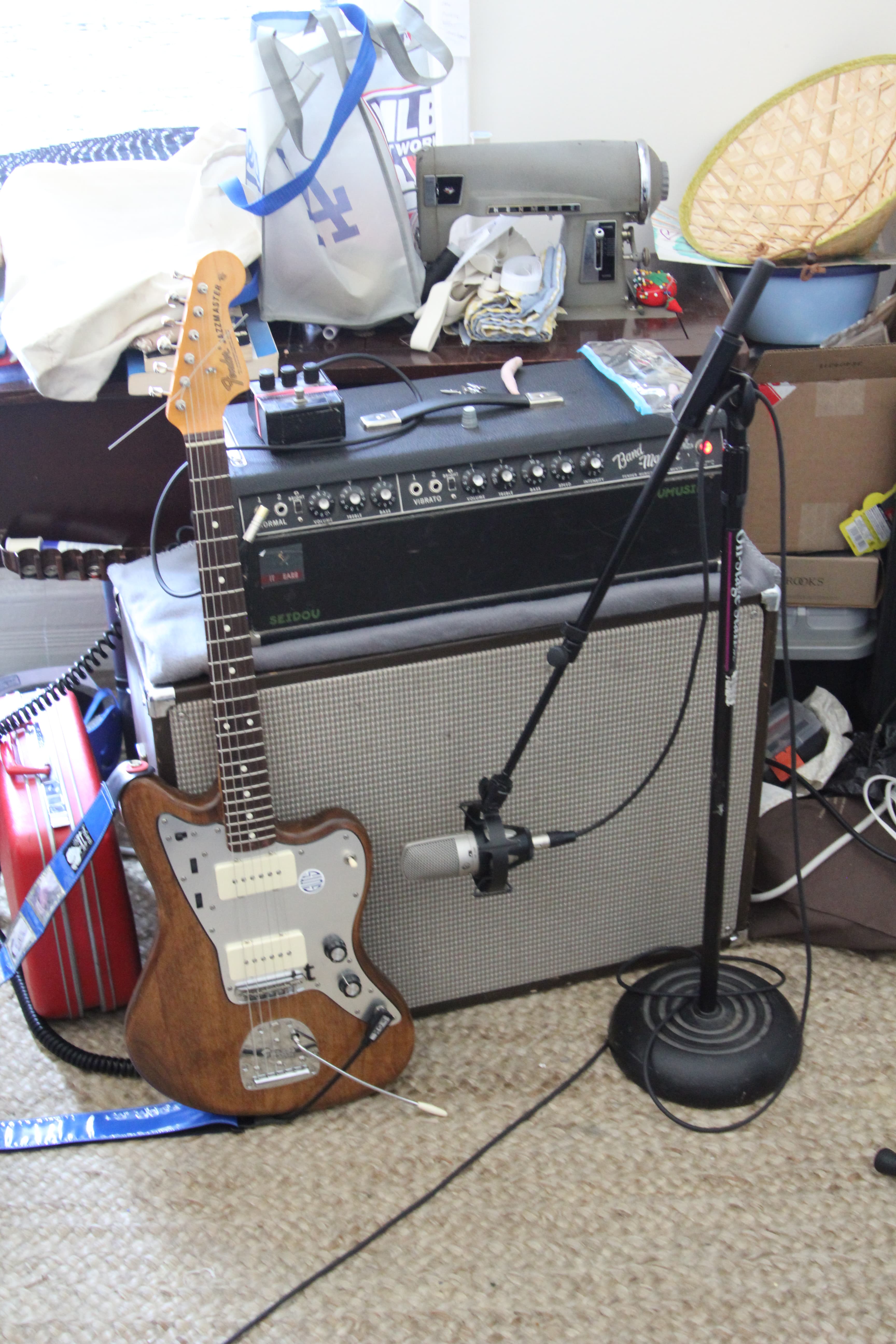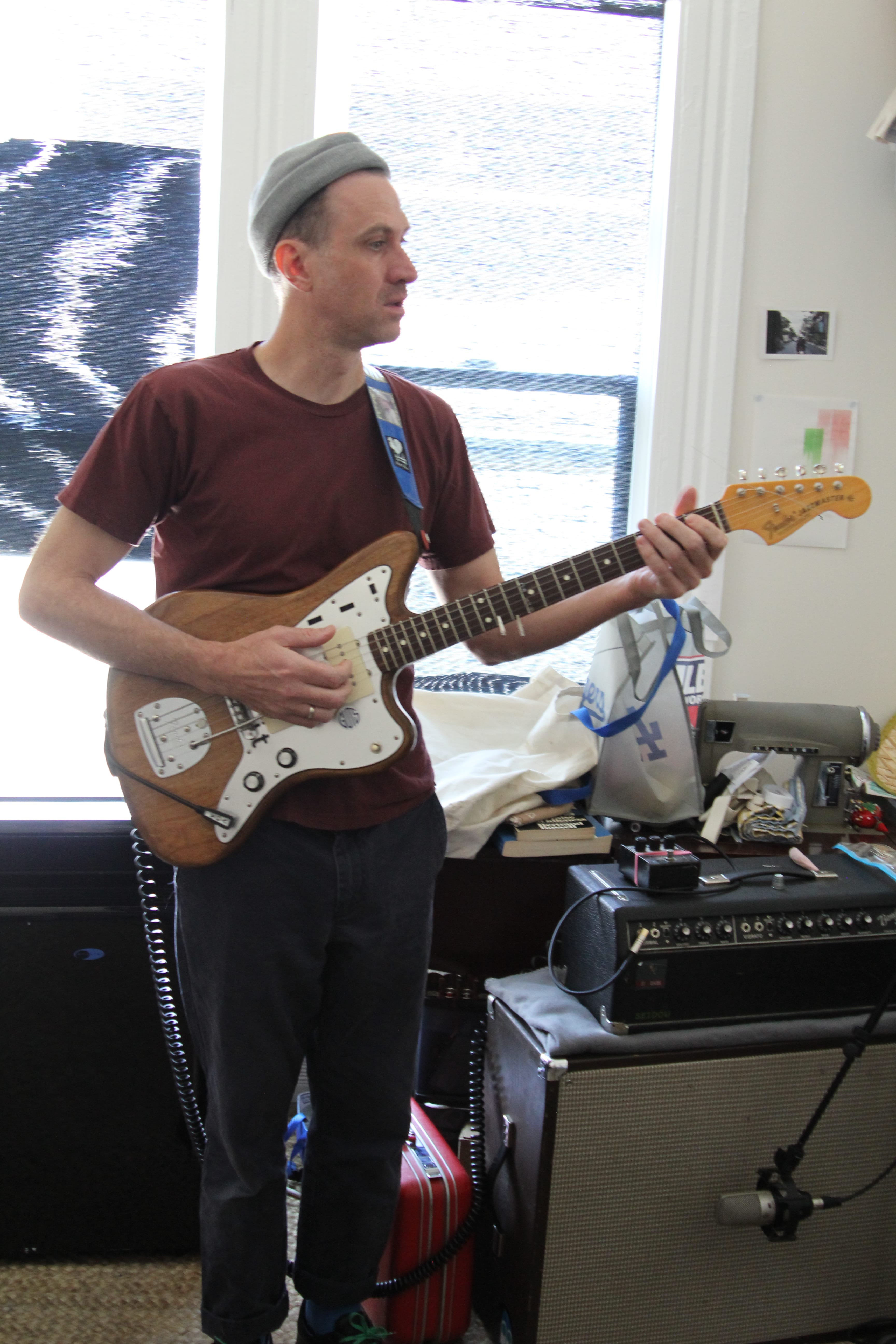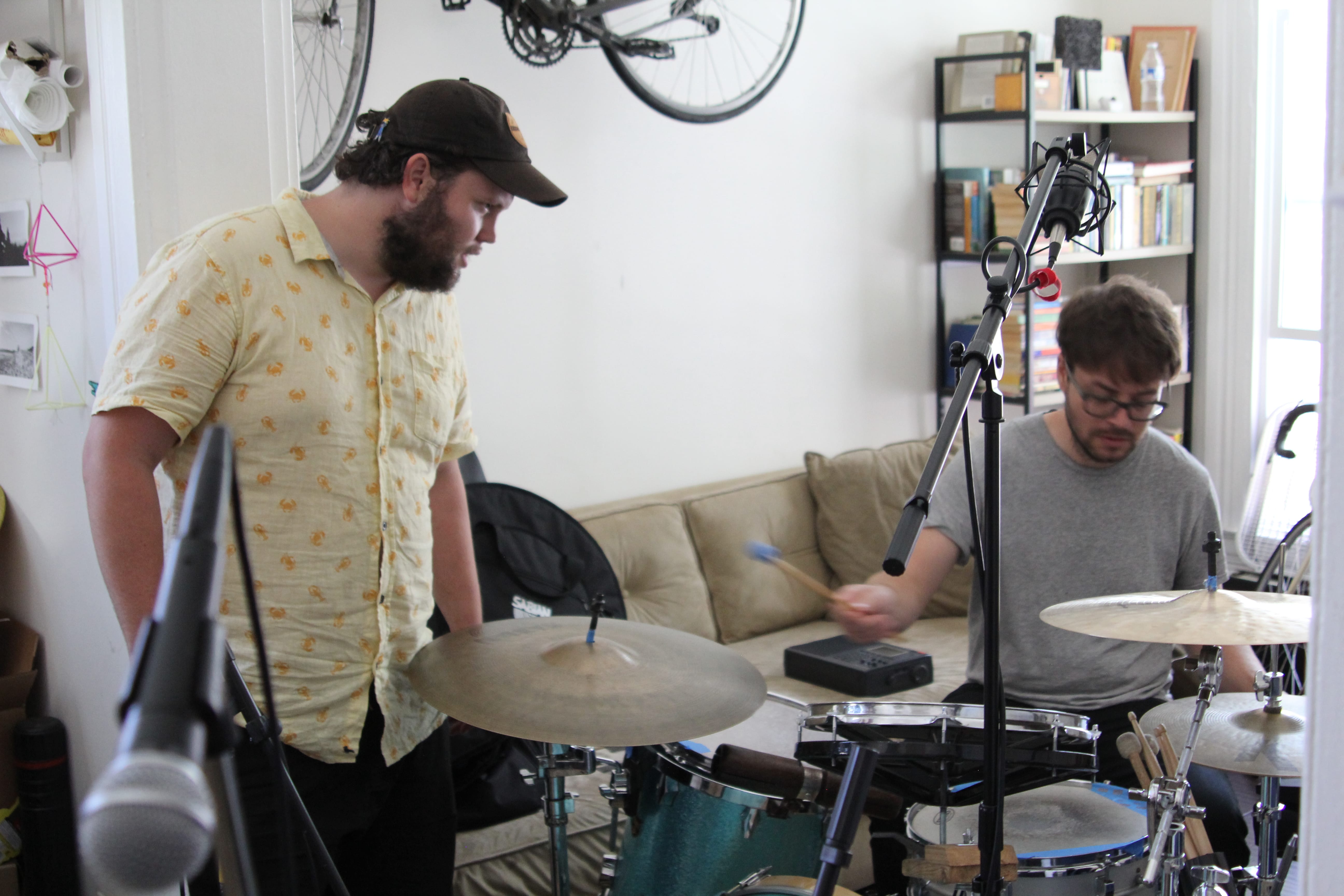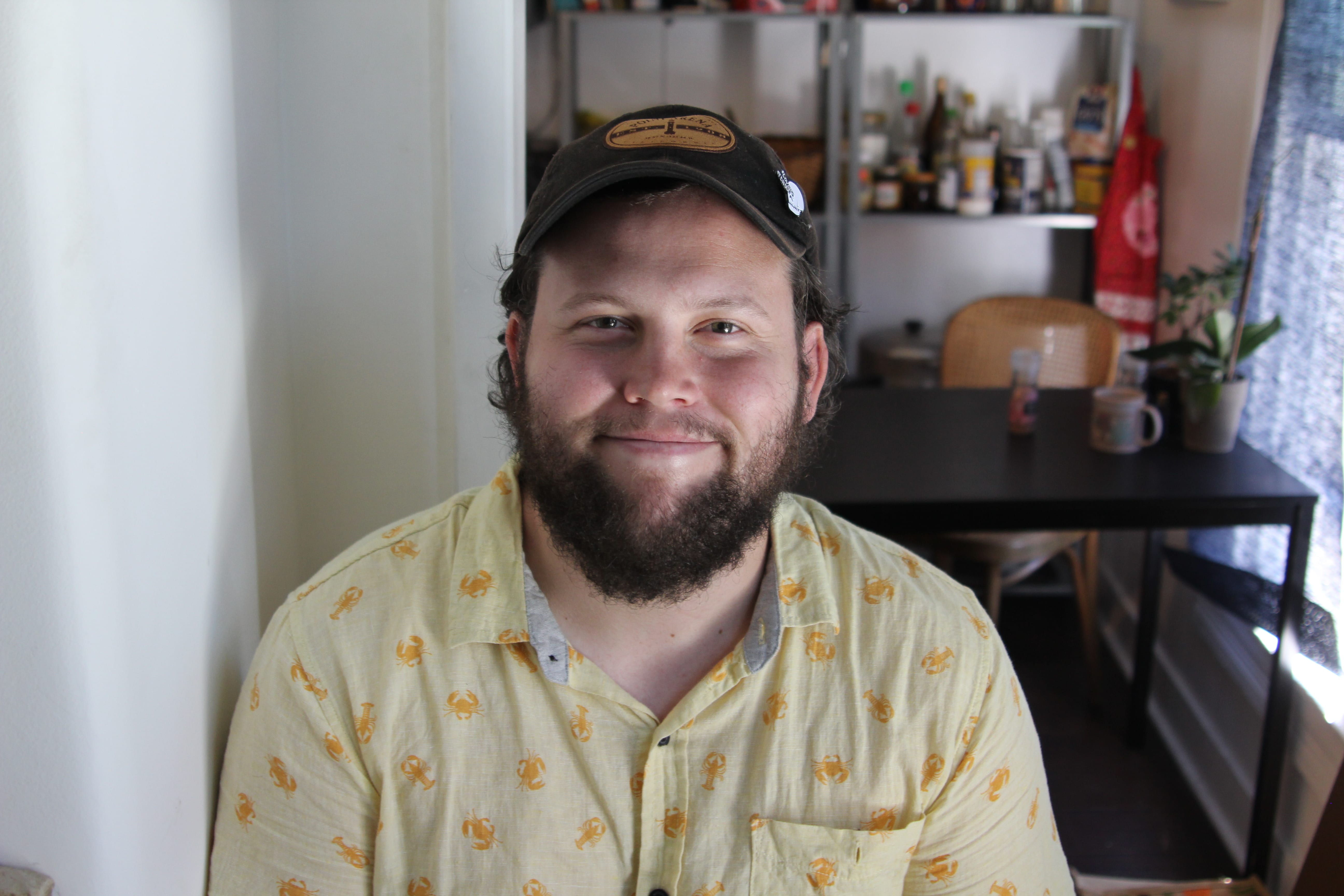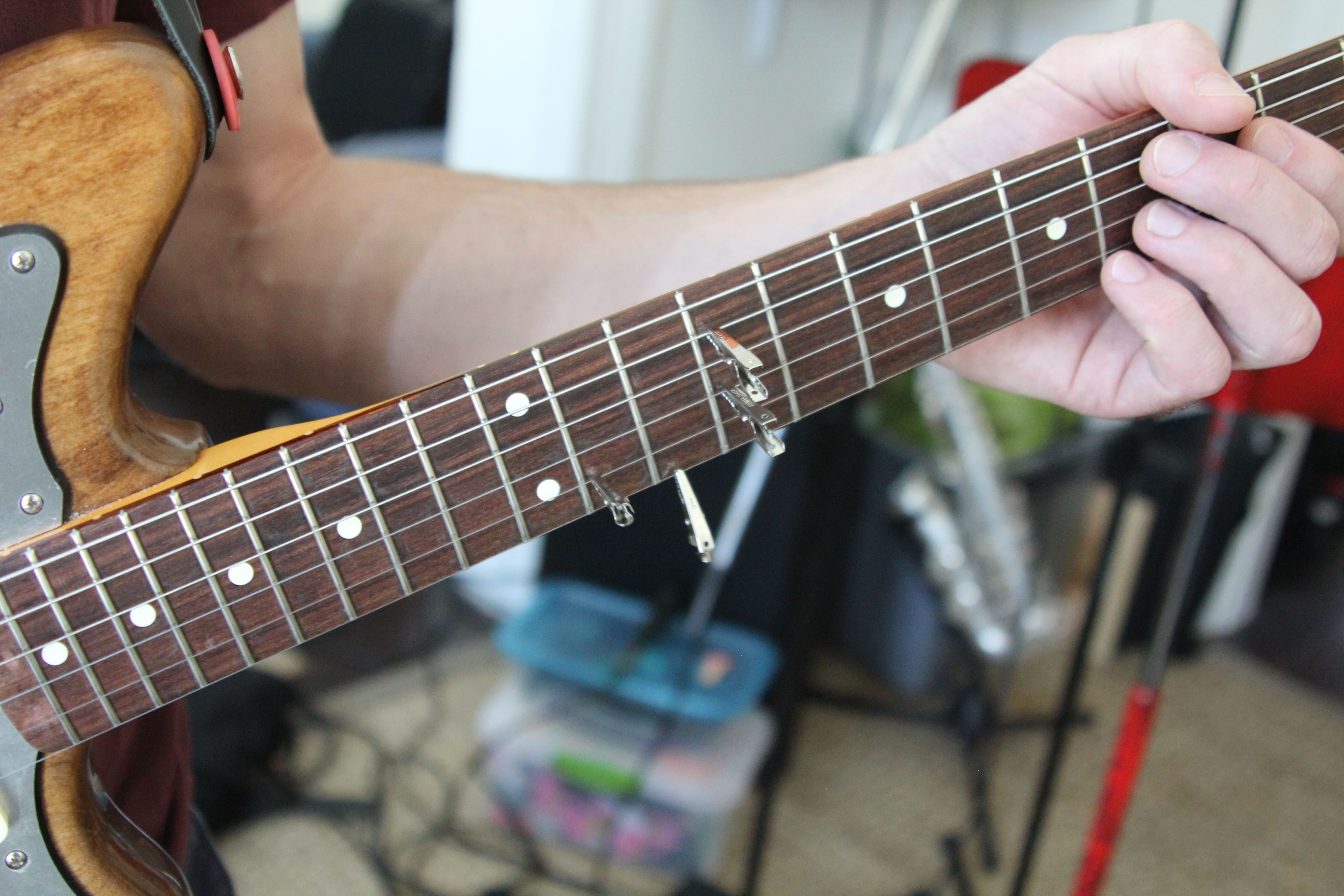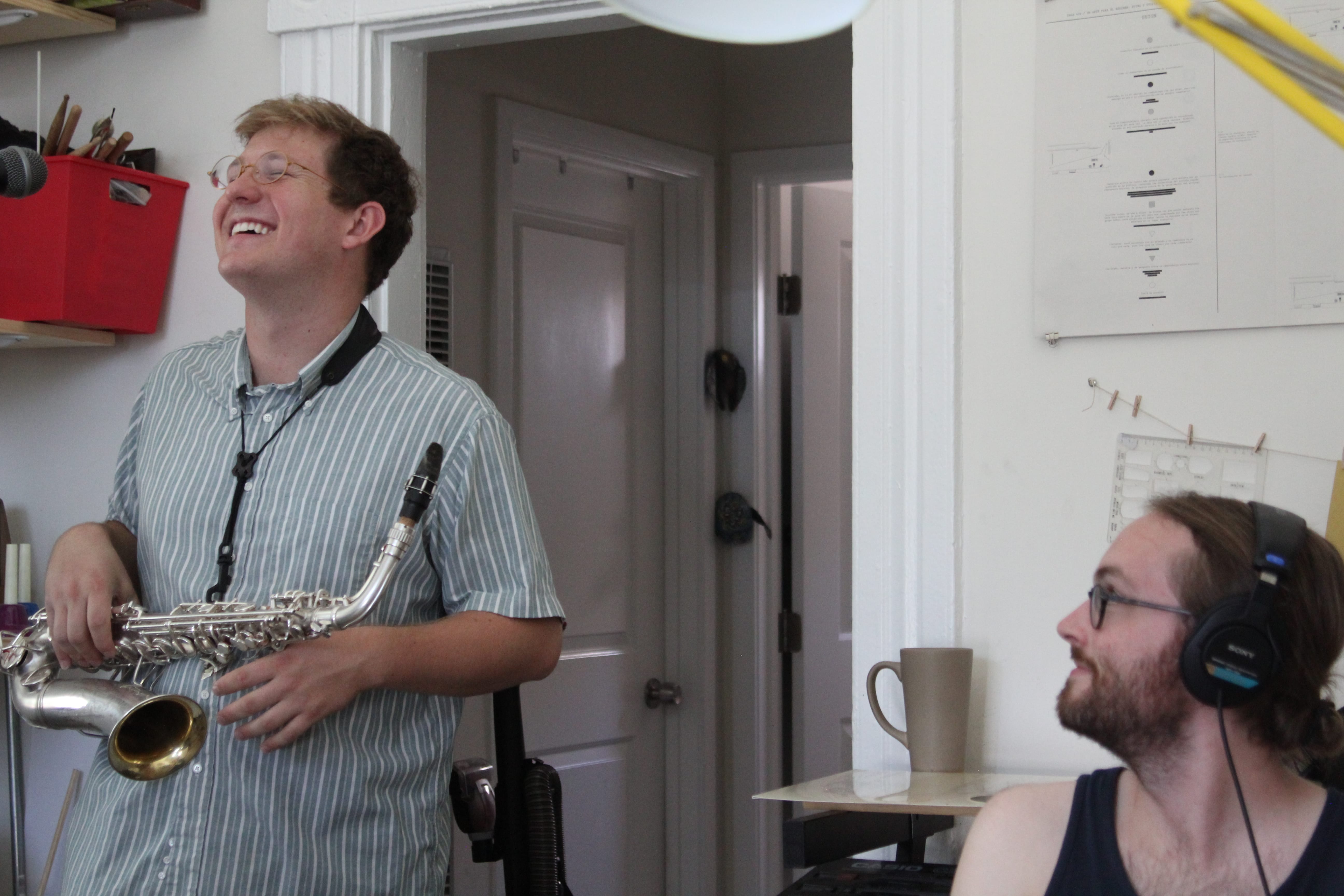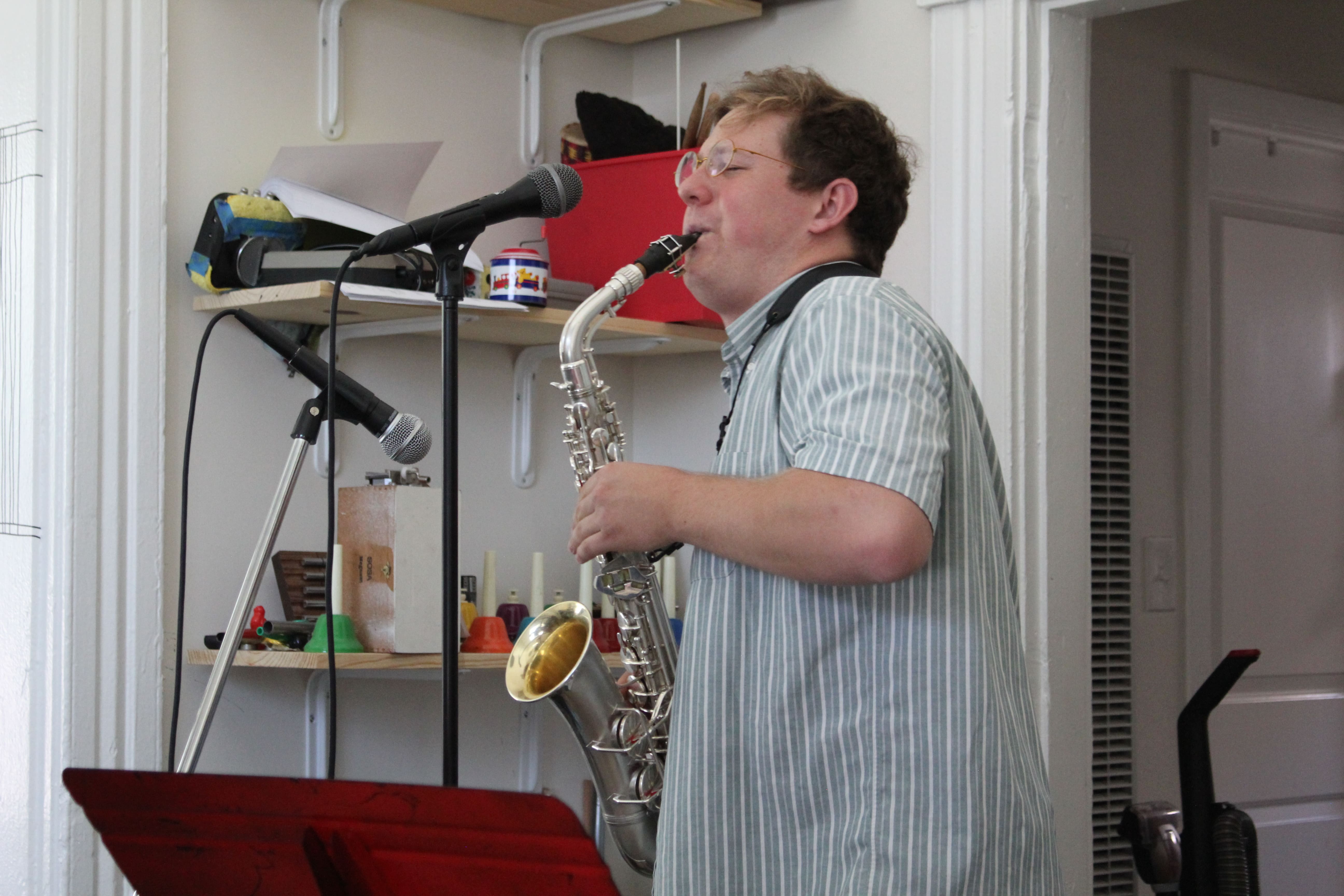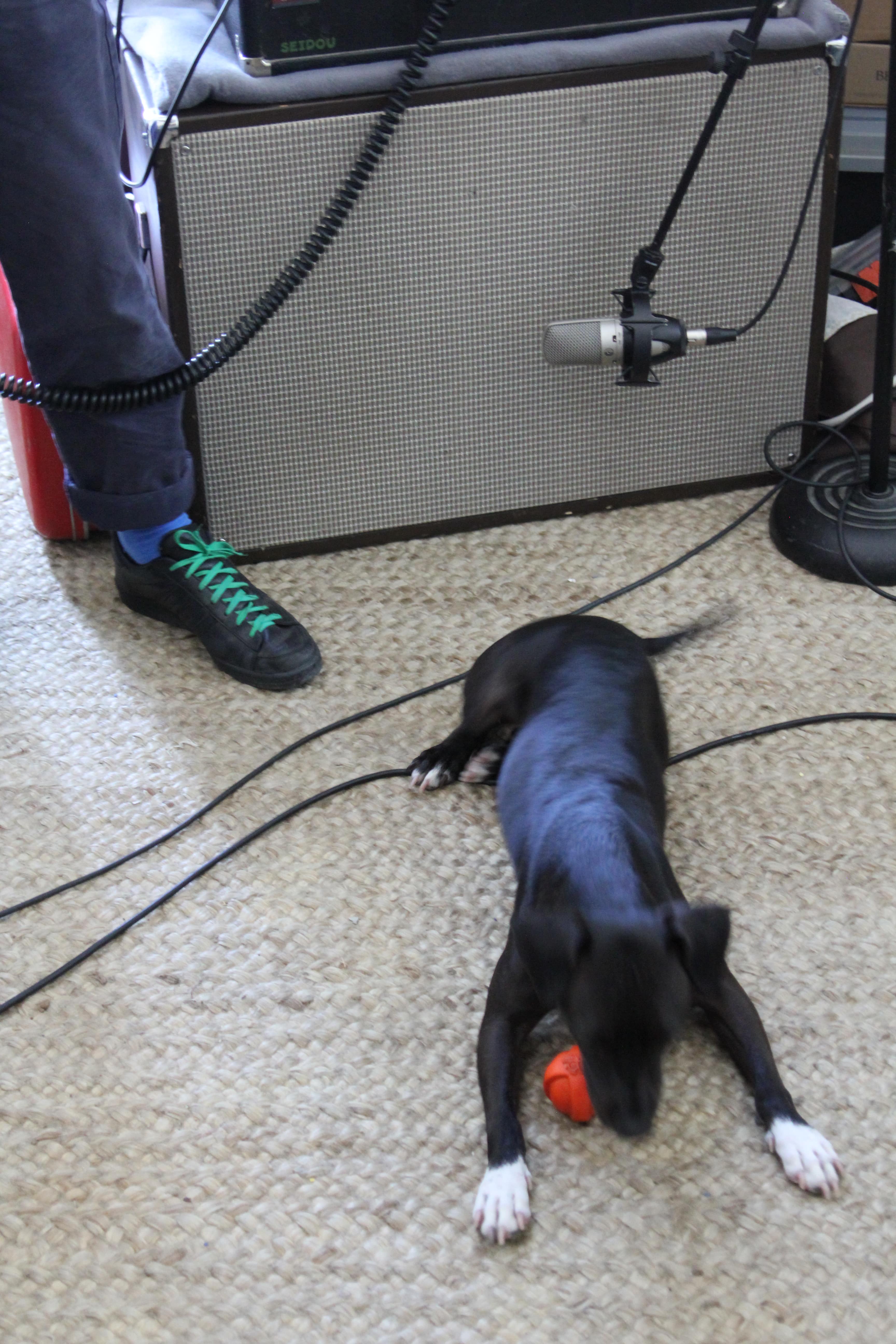 Sept 6, 2017: IT LO aftermath Blog #8

After not being totally pleased with the first mixes (shocker??!!!), Luke and I decided to spend some more time mixing the songs (we ended up doing about 3 more rounds of mixes on most of the songs). Now the album is finished and Jessica Li is making artwork!

This project was really fun. Here are some of my emotions over the course of this project in chronological order:

Excited to get together to make music with Jason
Excited about deciding to have Nick also play with us
Excited about doing a residency and a couple shows
No stress related to the residency and completely chill about composing, we all decided to not really write anything beforehand and just come with an open slate and see what happens
A little stress and work pertaining to setting up shows in SoCal. Perhaps I started setting up shows a little too far in advance for this group. The Battery Books show came together quickly but there were issues with the bill. I tried contacting quite a few places about a second LA show, but none worked. Luckily at the last minute, Greg Uhlmann offered us a spot on the Bootleg Jazz Night!

Week of Residency:
Tons of fun, chill vibesss
Work feels. Working on songs together. Really excited. Loving the sounds Jason and Nick make on their instruments. Problem solving. Excited about improvisations and ideas that were being talked about. Figuring out collaboration (a little slow and clunky sometimes) Excited about shows, a little nervous about playing the songs for an audience.

Excited about recording. Really psyched Luke was down and that Jesse Q-T came over to hang out. The session was a little stressful just because recording is weird, but mostly felt totally great and fun.
A little bummed about the not total success of releasing the album in one day and having a killer sounding 'live' album. Realizing we should just spend some more time and mix it.
Happy we made a little money at Bootleg ($92). We decided to give it to Luke for working on the album.
Really thrilled about mixes. Feeling guilty that Luke was working on it for multiple days with me but we talked and he said he was really excited about it and happy to do it and super grateful for the $92.
Aug 21-Sep 6: Stress relating to mixing album, printing CDs, finishing this blog, uploading the album to Bandcamp, and making a webpage for It Lo. Mostly because I was already in the midst of finishing up an album for Flowers on Loan and working on releasing the new Similar Fashion album and hadn't planned to do these things with the It Lo project. But I'm glad we did it!

Here are a few pages from my notebook of lyrics and notes from the mixing sessions:

Ramp Logistics lyrics: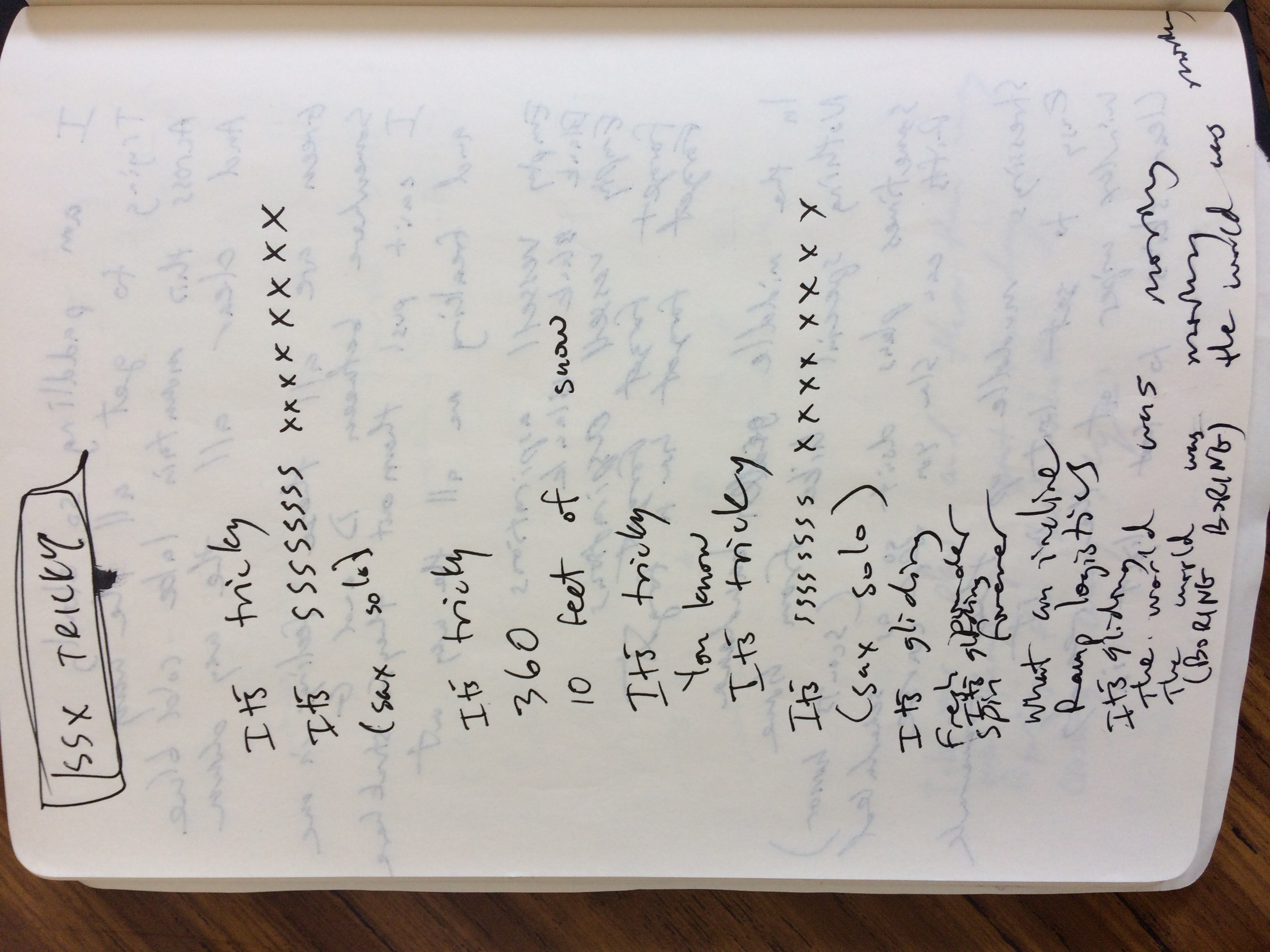 Drive By lyrics: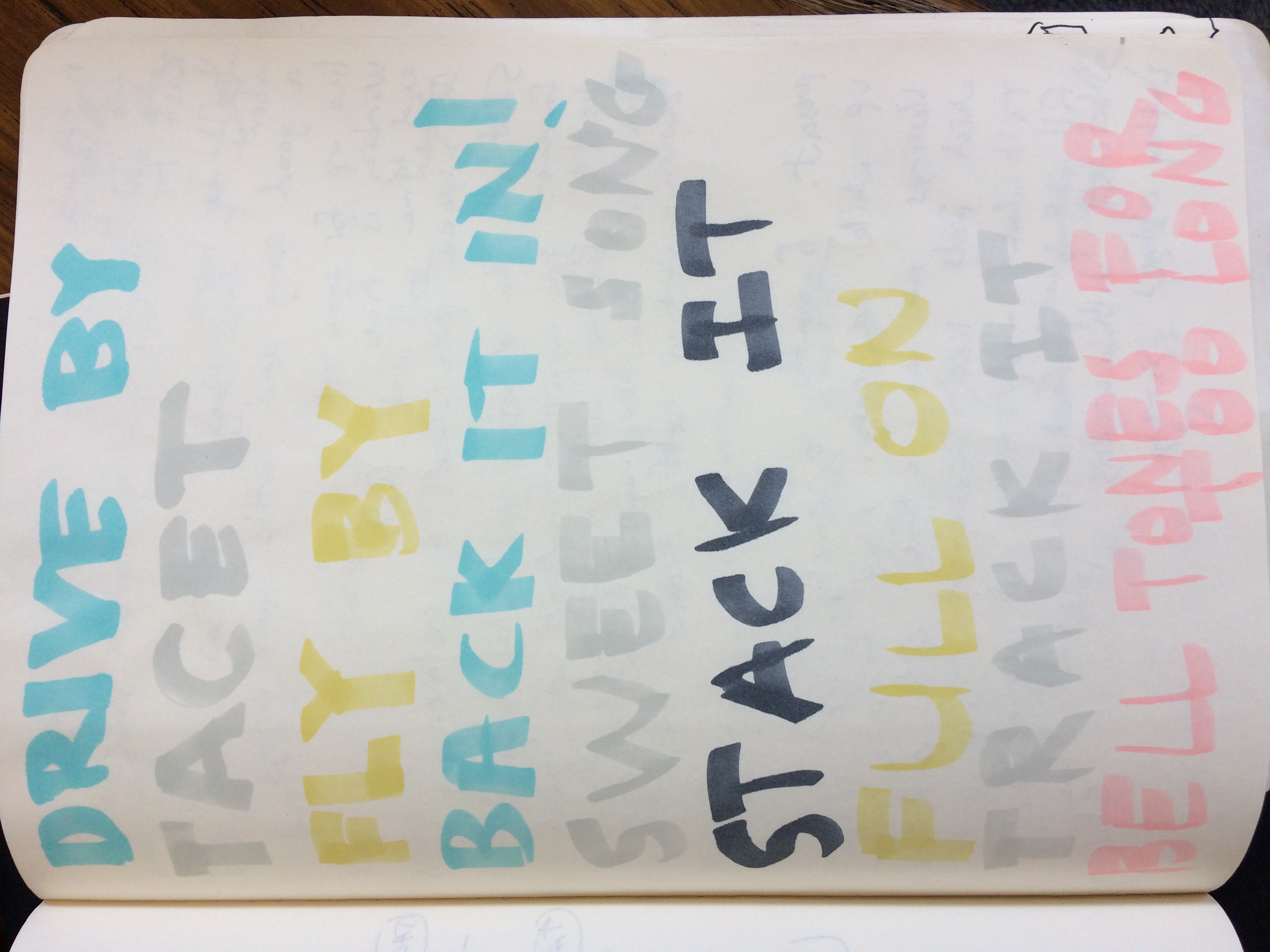 Mix notes: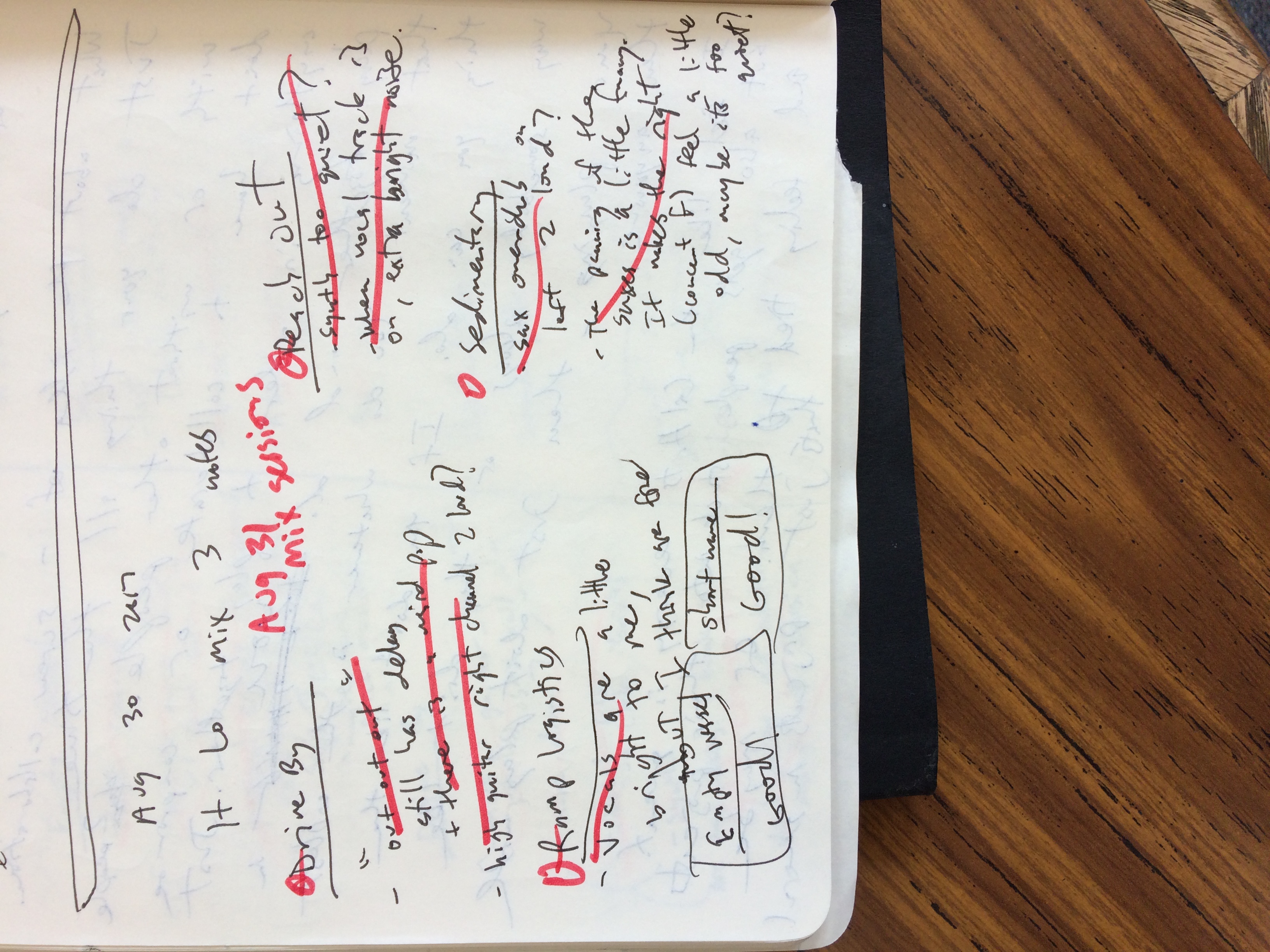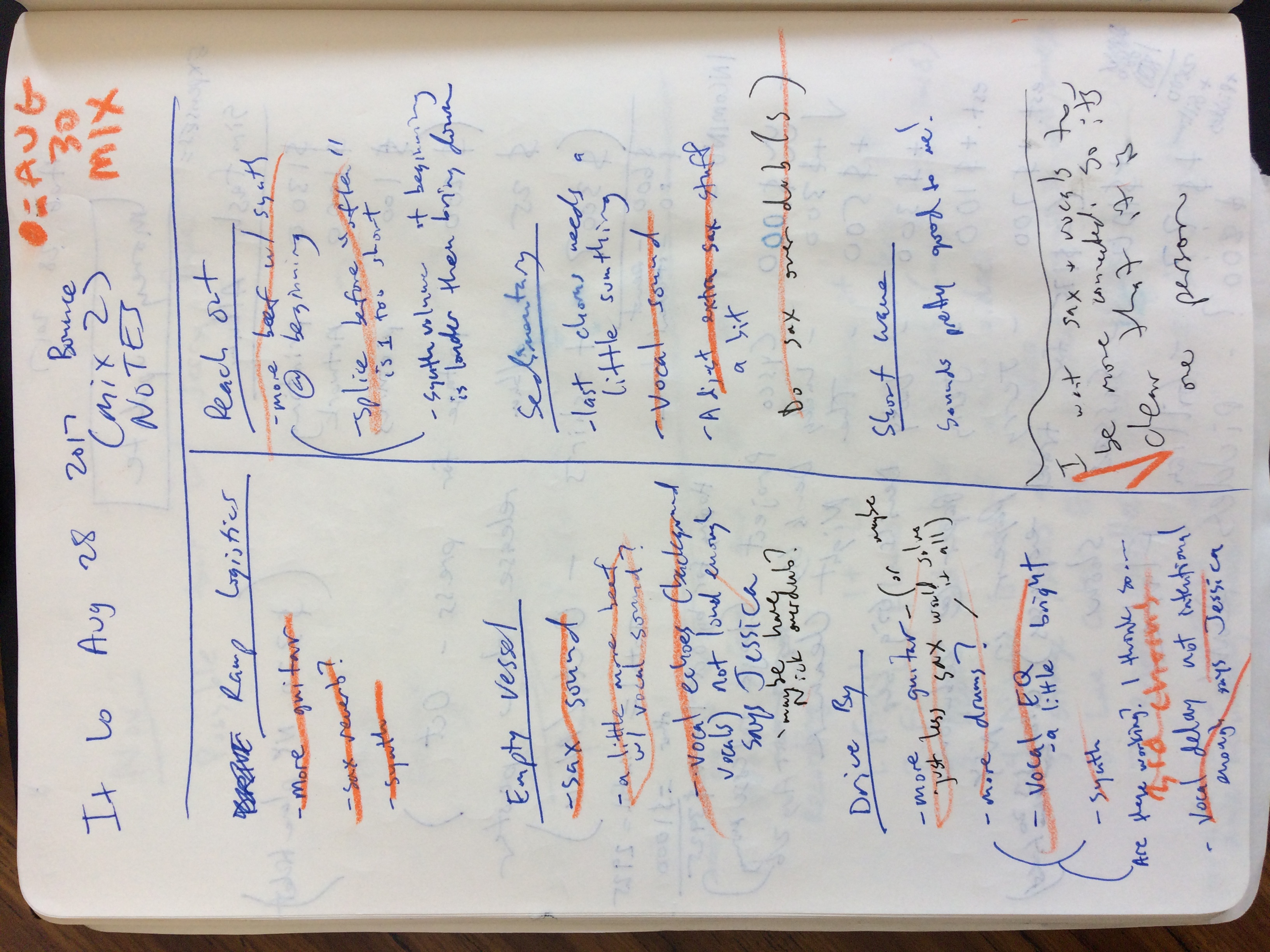 Sept 13, 2017: Done! Blog #9

The album is released! Here it is!